Austin Peay Senior Xiamar Richards gets Top Three Finish

Chattanooga, TN – Two Austin Peay  State University women's cross-country runners finished in the top-10 and Molly Jordan set an APSU record in the two-mile run at Saturday's Front Runner Invitational, hosted by Chattanooga at Moccasin Bend Race Course.
The Lady Govs finished third overall as a squad in the two-mile event, scoring 60 points as a squad behind Chattanooga (41) and Middle Tennessee (45). The Lady Govs did beat two Ohio Valley Conference schools in UT Martin (fifth, 168 points) and Tennessee State (eighth, 215) – huge results with the OVC Cross Country Championships awaiting on November 2nd at Morehead State.
"I'm very pleased with how well we ran today," said head coach Doug Molnar. "This meet is usually a good indicator of what we can do at conference and the men's and women's sides both got better since the last time we were here."
Senior Xiamar Richards narrowly missed her fourth consecutive runner-up finish, placing third with a 10:57.11 mark that crushed her previous school record in the two-mile by better than 25 seconds. She was less than a second behind MTSU's Lucy Kapkiai in the battle for second place.
Hot on Richards' heels was senior Chantelle Grey, who finished sixth overall with an 11:25.26 mark that improved her mark from the Lady Govs last race at Moccasin Bend, the September 6th Front Runner Invitational, by nearly 20 seconds.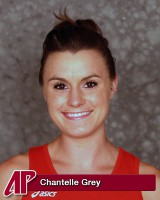 Senior Kendra Kirksey (13th, 11:46.38) and freshman Molly Jordan (18th, 11:56.05) also earned top-20 finishes for the Lady Govs. Jordan's mark breaks her freshman school-record in the two-mile event by more than 14 seconds.
"Molly had a solid race," Molnar said. "I've been really pleased how well she's done in our cross-country races."
Senior Kim Dominguez (21st, 12:00.65) and freshman Jessica Gray (22nd, 12:04.76) battled for the final scoring position on the day, with Dominguez taking the Lady Govs fifth spot.
Sophomore Alexis Eldridge (41st, 12:41.79) and freshman Unjala Lester (50th, 13:07.31) rounded out the runners for the Lady Govs.
Austin Peay will take a couple of weeks to rest up and train before the November 2nd OVC Championships at Morehead State on the Eagle Trace Golf Course.