Clarksville, TN – Three runs in an error-filled inning was enough for the White Team to secure a 3-1 victory and complete a sweep of Austin Peay State University baseball team's three-game Red-White World Series, Sunday, at Raymond C. Hand Park.
The Red Squad scored the game's first run in the second inning, gaining its first lead of the series. First baseman Dre Gleason led off the inning with a single and would score three batters later on right fielder Matt Meadows' groundout.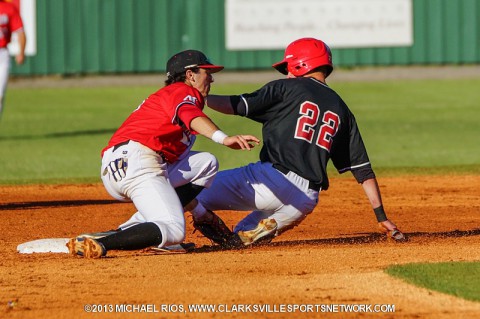 The White Team took advantage of two Red Squad errors as part of its three-run third inning. Second baseman Kevin Corey started the inning by reaching on an infield single and advancing to third when the throw sailed out of play. Left fielder Cayce Bredlau singled to set up runners on the corners with no outs.
Third baseman Griffin Ganick capitalized on the opportunity with a RBI single to left field, which also moved Bredlau to third base. Ganick would be caught out stealing second, but center fielder Chase Hamilton walked to set up runners on the corners again.
The White Team got creative with designated hitter P.J. Torres at the plate and two outs. Hamilton broke for second and induced a throw to second base, getting caught in a rundown. Bredlau scampered home to score while one of the relays sailed into the outfield. Hamilton scored while the Red Squad tracked down the errant throw, giving White a 3-1 lead.
The Red Squad would not record a second hit until shortstop Logan Gray's single in the fifth. However, Red would not get a runner past first base after the second inning as the White Team's bullpen held them at bay.
Don Whitson Jr. picked up the win for the White Team, tossing 2.2 scoreless innings and striking out four. Alex Belew and Tommy Hager bridged the gap with 1.2 scoreless innings before Jake Corum tossed a scoreless seventh for his second save of the series.
Caleb Powell suffered the loss after allowing three runs (one earned) on four hits while striking out three over 4.1 innings.
Bredlau led the White Team with a 2-for-2 effort while Ganick went 1-for-3 with the team's only RBI.
Austin Peay will conclude its fall practice slate this week before a two-month break. The Govs will open the 2014 regular-season with a February 14th home contest. Austin Peay will announce its complete spring schedule Wednesday.
Photo Gallery