Nashville, TN – Tennessee Department of Transportation contract crews will reduce Interstate 40 West in Davidson County to one lane this weekend in order to perform repairs to the Elm Hill Pike Bridge that crosses over I-40 at mile marker 217, which is located between the Stewarts Ferry Pike and Donelson Pike exits.  I-40 West at mile marker 217 will be reduced to one lane from Friday, October 25th at 8:00pm until Monday, October 28th at 6:00am.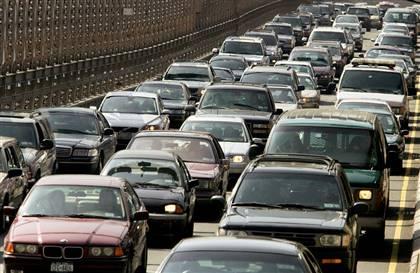 This weekend's lane reduction is necessary to repair damage sustained by the bridge when it was struck by an oversized vehicle.   Three of the four lanes on I-40 westbound will be closed during these repairs.    No lanes on Elm Hill Pike will be closed.  Motorists may want to consider using State Route 840 west as an alternate route.
The work is weather dependent.  Should inclement weather or unforeseen circumstances prevent this work from occurring as scheduled, it will be rescheduled.
TDOT will use its overhead Dynamic Message Signs to alert motorists of the closure. Law enforcement officers will be on-site in the work zone to provide traffic control as the work is being completed. TDOT also asks drivers to use caution, reduce their speed and be alert to changing traffic conditions in work zones across the state.
For more information on TDOT construction project activity visit the TDOT SmartWay web site at www.tn.gov/tdot/tdotsmartway/.  Travelers can also dial 511 from any land-line or cellular phone for travel information or can follow us on Twitter at www.twitter.com/TN511 for statewide travel information or www.twitter.com/Nashville511 for traffic information in the Nashville area.
Android and iPhone users can download TDOT's SmartWay Mobile App to assist them in navigating Tennessee highways.  The app provides up-to-the-minute customized traffic information and enables the user to access TDOT's SmartWay cameras, messages displayed on overhead Dynamic Message Signs, and information on construction related lane closures and incidents on interstates and state routes.  The TDOT SmartWay App is free and available for download in the Apple App Store and Play Store for Android.
As always, drivers are reminded to use all motorist information tools wisely and Know Before You Go! by checking travel conditions before leaving for their destination.  Drivers should never tweet, text or talk on a cell phone while behind the wheel.