Written by Sgt. Duncan Brennan
101st Combat Aviation Brigade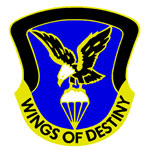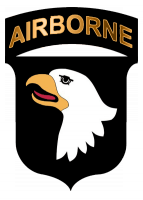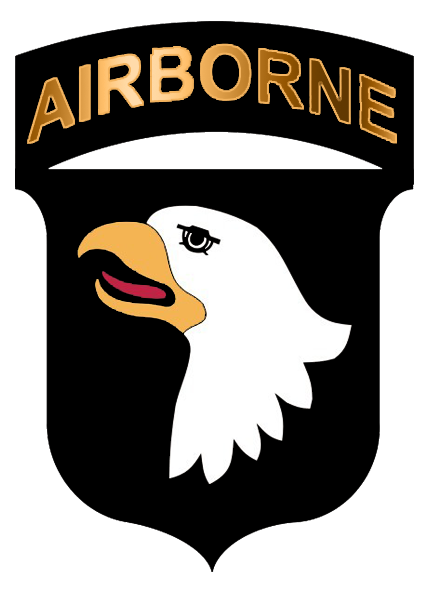 Fort Campbell, KY – Sergeants major from the 101st Combat Aviation Brigade, 101st Airborne Division (Air Assault,) conducted an Army physical fitness test for noncommissioned officers at brigade headquarters at Fort Campbell, KY, October 10th, 2013.

Attendance of the sergeants major at APFTs given to any soldier attending Department-of-the-Army schools was directed by Sgt. Maj. of the Army Raymond F. Chandler, III.

The test is held at the brigade level, and administered by the brigade command sergeant major to ensure maximum success for NCOs going to Department of the Army schools.

The command sergeant major is the senior enlisted member of a unit and sets the standard for the battalion and all of the companies within that unit. The brigade and battalion command sergeants major were in attendance ensuring that all participants performed their duties of grading, or taking the test in accordance with Army standards.

"This feels great," said Command Sgt. Maj. Galu P. Satele, 6th Battalion, 101st CAB. "This is a great opportunity for me, as a former master fitness trainer, to ensure that the Army standard is applied consistently across the board."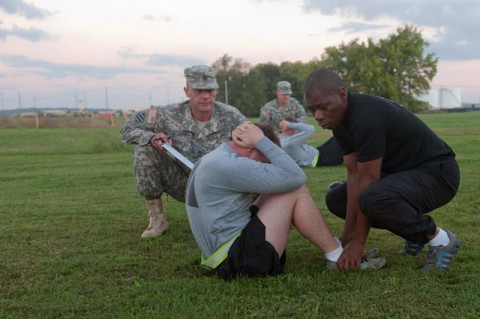 Being the standard bearer for a unit is not easy. Living the Army standard is a daily requirement. Overseeing an APFT is part of setting the standard and showing up-and-coming leaders how things are done properly.
"I think all senior leaders should be available to grade an APFT," said Command Sgt. Maj. John A. Martin, 1st Battalion, 101st CAB. "When you're not available for an APFT, it's hard to set the standard. If we, as leadership, are not going to do it right, why are we sending our Soldiers off to School?"
How an NCO grades events on the APFT can cause a lot of stress for soldiers taking it. When leaders across a unit grade the same way it allows them to focus on performing the repetitions correctly and pushing to achieve a higher score.
"This is an opportunity to ensure that we as leaders are doing the right thing," said Command Sgt. Maj. Stuart C. O'Black, 101st CAB. "Grading according to the standard just as much as we're ensuring that the events are performed to the Army standard is important. Our job as leaders is to make sure that when our Soldiers and NCOs attend a Department of the Army school they can succeed. If we're not grading to standard, the soldier won't know until he gets to the schoolhouse."

Ensuring proper grading on APFT is part of the job of being a senior leader. Leading Soldiers encompasses more than just physical training and checking that Soldiers are adhering to the regulations. Mentoring the Army's future leaders is just as important.

"The APFT is a great time to get out and spend time with the Soldiers," said O'Black. "The APFT is not punishment, it's an opportunity to mentor and lead our soldiers. Being out with the Soldiers is the greatest part of my day."

When leaders take an active role in important events in soldiers' careers it has a positive effect on morale. Consistency in grading allows soldiers to concentrate on giving their best effort towards the events.

"We are there to support our soldiers and NCOs," said Martin. "I am there to show my soldiers that I am not there to do anything other than ensure that they are meeting the Army standard."

Ensuring that there is only one standard has been part of the NCO tradition. The NCOs are the backbone of the Army and ensure that all members of a unit represent the profession of arms in a manner that will bring credit upon them and their unit.

"We, as senior leaders ensure that the Soldiers are adhering to the Army standard," said Satele. "One day we will all take off the uniform. The standards we leave them with will ensure that we will have the greatest army in the world."



Sections
News
Topics
101st Airborne Division, 101st Combat Aviation Brigade, 17th Cavalry Regiment, 2nd Squadron 17th Cavalry Regiment, Air Assault, Army Physical Fitness Test, Department of the Army, Duncan Brennan, Fort Campbell, Fort Campbell KY, NCO, UH-60 Black Hawk Helicopter