Clarksville, TN – The Austin Peay football team will look to earn that elusive first win of the season under first year head coach Kirby Cannon on Saturday, as Jacksonville State comes to Governor's Stadium for a 4:00pm kick-off.
This the third of four homes this season for the Governors, who will play eight road contests this season.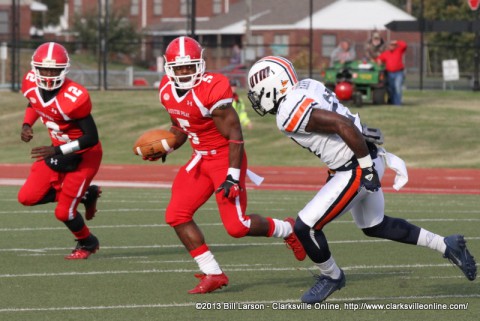 Since they joined the Ohio Valley Conference in 2007, APSU has never beaten JSU, and are 0-6 against the Gamecocks as OVC members.
In the last three games, Austin Peay has started three different quarterbacks. Andrew Spivey started against Eastern Illinois; Jacob Sexton started against Murray State while walk-on Timarious Mitchell started against UT Martin.
In the first seven games, APSU scored just 26 points, including only two touchdowns. Against UT Martin the Governors not only scored a season-high 14 points but the two TDs matched their previous output.
Jacksonville State and Austin Peay are under first-year head coaches. Bill Clark, a JSU 1990 grad, replaced Jack Crowe after the 2012 season. Kirby Cannon, meanwhile, was named head coach last spring after Rick Christophel accepted an assistant's job with the Arizona Cardinals.
Since joining the OVC in 1964–including its 10-year hiatus for non-scholarship football–the fewest number of single-season points scored by the Govs is 68 by the 1964 team. The year before before joining the OVC the Governors tallied just 24 points in 1963. The Govs have 40 points this season.
Senior kicker Griffin Thomas currently is ranked first in FCS football in field goals per game, with an average of 2.3 per game. He has 18 (of 22). He averages 10.0 points per game to rank 10th nationally. Austin Peay kickers, meanwhile, have converted just 4-of-10 attempts.
Junior Darryl Clack caught both Governors touchdown passes against UTM, doubling his career total. He's the first Gov with multiple touchdown receptions in one game since Devin Stark caught two touchdown passes against Southeast Missouri, Oct. 27th, 2012.
Senior running back Tim Phillips, after rushing three times for 41 yards, left the UTM game with a triceps injury after the first drive and did not return to the game. Coming off the bench in place of Phillips was sophomore running back Omar Williams who finished the contest with a career-high 122 yards on 25 attempts, making it his second 100-yard rushing effort this season.
Tickets are still available to Saturday's game.