Clarksville, TN – Austin Peay State University's unofficial start to the 2013-14 men's basketball season will occur 7:00pm, Monday when the Govs play their traditional exhibition foe, perennial Division II power Central Missouri, in Dave Aaron Arena.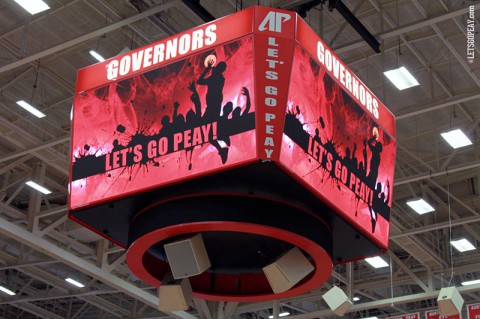 It will be the Govs' only preseason exhibition. It will be Central Missouri's second. The Mules led Missouri, 45-43, at halftime and were tied at 72 with 7 minutes left before falling, 92-79, to the Southeastern Conference foe.
The Governors are looking forward to facing the Mules, who committed just four turnovers against Missouri and have more than challenge APSU over the years.
"To this date we have had 25 practices," said APSU coach Dave Loos in his 24th season. "We are at the point where we are tired of looking at each other. It's time we play another team.
"Central Missouri always has provided a test for us and I expect nothing different. They have had a strong program over the years."
The Governors are team that underwent a makeover after a 2012-13 season that saw them fail to reach the Ohio Valley Conference tournament for the first time under Loos. The Govs added four junior college transfers while a fifth transfer, Zavion Williams, is now eligible after sitting out last season after moving from Lipscomb. The team's added depth and athleticism are apparent.
"The effort has been really good and the chemistry seems good," Loos said.
And it has started on the defensive end. Two years ago when the Govs won 20 games they allowed 67 points per game. Over the last two seasons, that figure rose to 72.6 in 2011-12 and 76.5 points per game a year ago.
"We are playing better defense right now than at any point last year," Loos said. "But that's not good enough to win a championship. It is all relative. We have spent a lot of time on our defense—put a big emphasis on it. We have continued to improve but we have room for more improvement."
Offensively, the Govs will count on the outside-inside duo of guard Travis Betran and forward Will Triggs. Both were named preseason All-OVC. In fact, Betran is the OVC's leading returning scorer (17.2 ppg) while Triggs averaged 12.2 ppg while shooting 54 percent from the floor.
They are expected to benefit from the added quickness at point guard that Williams, Damarius (DeeDee) Smith and Fred Garmon bring. In fact, their collective quickness is expected to help ignite the Governors transition game.
"We are still turning it over more than I wish we were," Loos said. "But I have to take into account we are playing really fast. I am going to have to grin and bear it sometimes because we are built to do that.
"We are going to have some activity without achievement. But I think this team will be fun to watch."
Central Missouri is coached by former Missouri All-American and NBA player Kim Anderson. His top assistant is Brad Loos, the son of the APSU coach. The younger Loos is now in his 12th season with the Mules.