Morehead, KY –  Senior Xiamar Richards finally got her elusive first-team All-OVC finish, leading Austin Peay State University women's cross country team to its best finish in the Ohio Valley Conference Women's Cross Country Championships since 2010.
The Lady Govs finished sixth as a squad in the 2013 running at Eagle Trace Golf Course.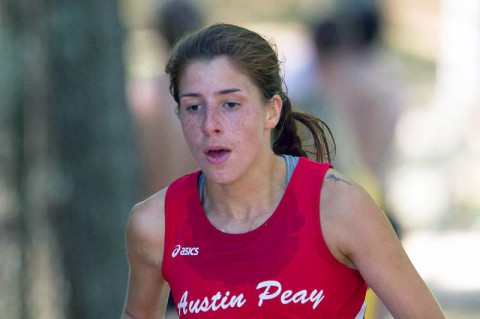 Richards finished fifth overall, 25 seconds behind Eastern Kentucky's Una Britton, the individual champion, with an 18:07.95 run in the eight-kilometer race.
Her fifth-place finish was the best by a Lady Gov since Bertha Castillo's fourth-place showing in the 2008 event, which was also the last time an Austin Peay runner earned first-team all-conference honors. With her second-team honors in 2011 and 2012, Richards becomes Austin Peay's first-ever three-time all-OVC honoree.
"CiCi ran a great race in tough conditions," said head coach Doug Molnar. "She did an outstanding job, as she has the last four years for us."
In her final OVC Championship, senior Chantelle Grey placed 33rd overall with a 19:28.68 mark. Senior Kim Dominguez, in her first (and also final) OVC Championship, was right behind Grey with a 35th-place, 19:32.23 mark.
Senior Kendra Kirksey was the fourth Lady Gov across the line with a 50th-place, 19:53.20 mark. Junior Jessica Gray rounded out the Lady Gov top-five with a 20:11.33 mark, good for 57th overall.
"We're a little disappointed," Molnar said. "We thought we had a chance to be a top-three team in the conference and we just didn't get the job done today. We've got to re-group and see if we can be a top-15 team in the region."
Freshman Molly Jordan (20:23.87, 63rd) and sophomore Alexis Eldridge (21:07.69, 71st) had counting scores for the women's side as well. Freshman Unjala Lester (21:37.56) also competed for the Lady Govs.
Eastern Kentucky (29 points) won its second consecutive OVC Women's Championship, and their 27th overall. Belmont (71) finished second, followed closely by Eastern Illinois (100), Southeast Missouri (104) and Murray State (115) rounding out the top-five. Behind sixth-place Austin Peay were Jacksonville State (182), SIU Edwardsville (196), Morehead State (204), Tennessee Tech (293), UT Martin (322) and Tennessee State (364).
The Lady Govs return to action at the November 15th NCAA South Regional in Tuscaloosa, AL.