Clarksville, TN – Austin Peay State University's volleyball team got a strong effort from its middles but it wasn't enough in a three-set (24-26, 25-27, 18-25) non-conference loss to Middle Tennessee, Tuesday, in its 2013 home finale at the Dunn Center.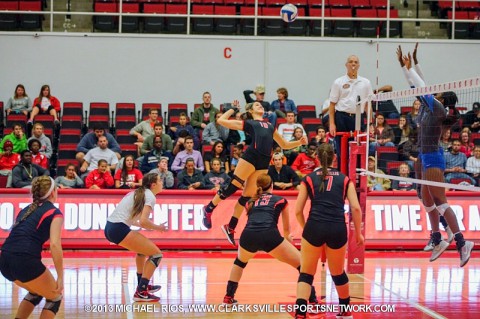 Austin Peay (10-19) saw the middle blocker duo of senior Lauren Henderson, who played her final home match, and junior Hillary Plybon had quality outings.
Henderson finished with a team-best 11 kills, a .389 attack percentage and four blocks. Plybon added nine kills at a .389 attack percentage as well.
However, the Lady Govs outside hitters had the most trouble. They combined for 23 kills but were charged with 12 of the team's 18 attack errors and finished with a .169 attack percentage.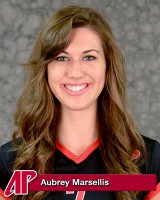 Sophomore Aubrey Marsellis was the most successful of the outside hitters, recording six kills and a team-best .417 attack percentage.
Still, Austin Peay had opportunities to take the first two sets in a match that lacked defensive presence from either team. The Lady Govs rallied from a 12-5 deficit in the opening set to force overtime, fending off three sets points before Monet Marshall's kill ended the set, MT winning 26-24.
Austin Peay again rallied from an early deficit in the second set and got to set point first, 24-23, but was denied twice before Middle Tennessee scored the final three points to win 27-25.
Middle Tennessee (15-10) could not shake Austin Peay early in the third set, with the teams exchanging the lead five times. Austin Peay took its final lead, 18-17, on a Plybon kill before the Blue Raiders scored the set's final eight points to post a match-clinching 25-18 victory.
Austin Peay finished with 44 kills and posted a .252 attack percentage. However, the Lady Govs recorded only 37 digs in the match, well below their season average.
Jale Hervey led Middle Tennessee with 14 kills of the bench. Chelsea Ross paced the Blue Raiders starting group with 12 kills. Middle Tennessee finished with 48 kills and a .340 attack percentage and won despite recording only 36 digs.
Austin Peay finishes the 2013 campaign with a four-match road trip. The Lady Govs begin the season-ending road trip with a 7:30pm, Friday contest at UT Martin.
Photo Gallery
Box Score
Middle Tennessee vs Austin Peay
(November 5th, 2013 at Clarksville, TN)
Middle Tennessee
ATTACK
SET
SERVE
SRV
DEF
BLOCK
GEN
##
Player
SP
K
E
TA
PCT
A
SA
SE
RE
DIG
BS
BA
BE
BHE
Points

5

DE FREITAS, Ailime

3

0

0

0

.000

24

0

0

0

2

0

0

0

1

0.0

10

ROSS, Chelsea

3

12

4

29

.276

0

0

0

1

8

0

1

1

0

12.5

12

HEADRICK, Kristina

3

0

0

0

.000

0

0

0

3

5

0

0

0

0

0.0

14

JOHNSON, Jazmyne

3

8

2

14

.429

0

0

0

0

0

0

1

0

0

8.5

21

SHAUGHNESSY, Rachel

3

2

0

7

.286

0

3

2

0

1

1

2

0

0

7.0

23

RICHARDSON, Tyler

3

7

2

13

.385

0

0

0

0

0

0

2

0

0

8.0

1

ANDERTON, Shelby

3

0

0

1

.000

19

1

1

0

4

0

0

0

0

1.0

2

HOWARD, Kendall

3

1

0

1

1.000

1

2

1

0

11

0

0

0

0

3.0

7

HERVEY, Jale

3

14

2

27

.444

1

0

0

0

2

0

2

1

0

15.0

16

MARSHALL, Monet

3

4

3

11

.091

0

0

0

0

3

1

2

0

0

6.0

Totals

3

48

13

103

.340

45

6

4

4

36

2

10

2

1

61.0

TOTAL TEAM BLOCKS: 7.0
TEAM ATTACK BY SET
Set
K
E
TA
Pct
Sideout
Pct

1

18

6

41

.293

16-24

66%

2

16

4

33

.364

16-27

59%

3

14

3

29

.379

11-18

61%

43-69

62%

SET SCORES
1
2
3
TEAM RECORDS

Middle Tennessee

(3)

26

27

25

15-10

Austin Peay

(0)

24

25

18

10-19
Austin Peay
ATTACK
SET
SERVE
SRV
DEF
BLOCK
GEN
##
Player
SP
K
E
TA
PCT
A
SA
SE
RE
DIG
BS
BA
BE
BHE
Points

1

FIELDS, Cami

3

0

0

0

.000

20

0

1

0

6

0

0

0

0

0.0

7

MARSELLIS, Aubrey

3

6

1

12

.417

20

1

2

0

2

0

1

0

0

7.5

10

STROTHER, Samantha

3

3

1

8

.250

0

0

0

1

1

0

1

0

0

3.5

12

HENDERSON, Lauren

3

11

4

18

.389

2

2

0

0

6

0

4

0

0

15.0

14

STOTTS, Jada

3

8

6

31

.065

0

0

0

0

8

2

2

0

0

11.0

15

PLYBON, Hillary

3

9

2

18

.389

0

1

1

0

0

1

1

0

0

11.5

3

ADAMS, April

3

1

0

1

1.000

0

0

1

0

9

0

0

0

0

1.0

4

EBRIGHT, Sammie

3

6

4

14

.143

0

0

0

0

0

0

1

0

0

6.5

8

LANDON, Liz

3

0

0

1

.000

0

0

0

4

5

0

0

0

0

0.0

TEAM

1

Totals

3

44

18

103

.252

42

4

5

6

37

3

10

0

0

56.0

TOTAL TEAM BLOCKS: 8.0
TEAM ATTACK BY SET
Set
K
E
TA
Pct
Sideout
Pct

1

15

4

35

.314

16-26

61%

2

18

8

36

.278

15-27

55%

3

11

6

32

.156

11-25

43%

42-78

53%

Site: Clarksville, TN (Dunn Center)
Date: Nov 05, 2013 Attend: 342 Time: 1:18
Referees: Ken Gilkey, Keith Weller


| | | | | |
| --- | --- | --- | --- | --- |
| | 1 | 2 | 3 | Total |
| Tie scores | 4 | 12 | 9 | 25 |
| Lead changes | 0 | 3 | 5 | 8 |