Clarksville, TN – Austin Peay State University's volleyball team begins a four-match Ohio Valley Conference road trip with a pair of weekend contests. The Lady Govs first have a 7:30pm, Friday contest at UT Martin followed by a 5:00pm, Saturday contest at Southeast Missouri.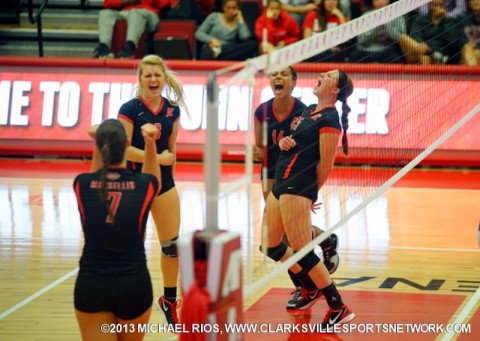 Austin Peay (10-19, 7-5 OVC) enters the weekend three games ahead of Jacksonville State, which occupies ninth place in the OVC standings.
That gives APSU an opportunity to seal a spot in the tournament this weekend with a pair of wins or a win and Jacksonville State loss.
However, just making the tournament isn't enough for the Lady Govs who are tied for Eastern Kentucky for fourth place so every win is critical to maintain seeding in the top half of the field.
"It would be a relief to secure a spot in the tournament as soon as possible," said Lady Govs head coach Taylor Mott. "However, I believe we need to make an improvement every time we step on to the court in this final four-match stretch. During the homestand we weren't able to stay consistent point to point. We put together some big rallies, but then couldn't finish off sets."
The Lady Govs will try to maintain their position in the tournament field on the road where they are just 2-7 this season, including a 2-2 mark in OVC play. Austin Peay went 1-1 during its last road trip, which it concluded with a four-set victory at SIU Edwardsville.
"Obviously we have to play better on the road," said Mott. "Especially since the tournament will be in someone else's gym. We will play four quality opponents during the last two weeks so it will be a good test to see what we can accomplish on the road."
Scouting the Opposition
UT Martin (9-19, 3-9 OVC) remains in the hunt for an OVC Tournament spot, just two-games behind an SIU Edwardsville team it has defeated twice. A November 2nd victory at SIUE – UTM's last outing – snapped the Skyhawks' eight-match losing streak which spanned 31 days.
Emily Keaton leads UT Martin with 275 kills (2.64 per set) while posting a .207 attack percentage during the season. The Skyhawks offense is averaging just 11.93 kills per set this season and has posted a .146 attack percentage.
Southeast Missouri (14-14, 6-6 OVC) has battled through its own tough patch during the past two weeks, dropping three of four outings with the lone win coming at November 1st at SIUE. The Redhawks are still tied for sixth in the OVC standings just two games ahead of Jacksonville State.
Colleen Yarber leads the Southeast Missouri with 317 kills (2.99 per set). Emily Coon is the Redhawks most consistent hitter with a team-best .283 attack percentage while ranking second with 268 kills (2.44 per set). The Redhawks biggest threat comes from its block, where it has posted a league-leading 132 stops (2.59 per set) during conference play.
Last Meeting and Series History
Austin Peay defeated UT Martin in three sets during their October 12th meeting in Clarksville. The Lady Govs never trailed in the match, which saw senior Lauren Henderson posted a team-best eight kills. It was Austin Peay's fourth-straight win in a series it now leads 41-30 against UT Martin. APSU has won the last six meetings at Martin and has a 19-17 edge on the road against UTM.
The Lady Govs edged Southeast Missouri in a gritty four-set match, October 11th. Despite hitting just .199 in the match, Austin Peay used seven service aces and eight blocks to secure the win. Junior Jada Stotts posted a team-best 17 kills in the win. It was Austin Peay's second consecutive victory against Southeast Missouri. The Redhawks lead the series 32-21 and have won the last two meetings played in Cape Girardeau.
On the Web
Neither of this weekend's matches will be available on ipTV. Fans can follow live statistics for both matches by visiting each team's website.