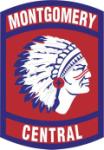 Cunningham, TN – Everybody knows that the true "spirit" of athletic competition comes from the cheerleaders.  They lead the charge for supporting their favorite school and represent their team everywhere they go.
The Montgomery Central High School cheerleaders were recently recognized for being one of the best at what they do.
The MCHS Varsity Cheerleaders won the 2013 UCA Regional Cheerleading Championship on November 2nd in Southhaven Mississippi.
In doing so, they also received a bid to compete at the National High School Cheerleading Championship in Orlando Florida, February 7th-8th, 2014.