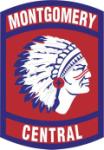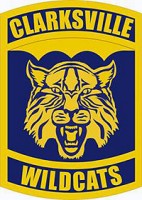 Clarksville, TN – A put back by Montgomery Central's Damarcus Brewer, with 45 seconds left, proved to be the difference, November 7th at the APSU Dunn Center in the final game of the Clarksville Montgomery County School System (CMCSS) Basketball Jamboree, as the Indians outlasted the Clarksville High Wildcats, 25-24.
Clarksville High had taken the lead 24-23 on a fast-break layup by Tyriek Cheatham, with 1:17 remaining.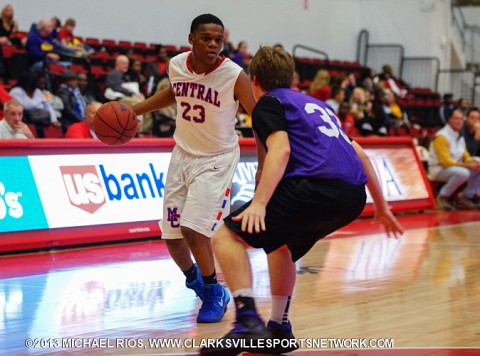 Cheatham's basket ended a 5-0 by the Indians – all scored by Trey Burney – which gave Montgomery Central a 23-22 lead with 2:33 left.
Burney led all scorers with 15 points.
Clarksville High had led by as many as seven points in the second quarter, 20-13 with 5:18 left, following a 7-0 run that broke a 13-13 tie — including a three-point field goal by Jeff Webb, at the 6:44 mark, followed by two free throws by Teal Young and a bucket by Avery Bates.
But Montgomery Central answered back with a 5-0 run of its own – started by a three from Lamont Smith, to get back to within two points, 20-18, with 4:06 left.
The Indians had tied the game at the 7:07 mark of the second quarter on 1-of-2 free throws by Brewer.
Clarksville High had taken the lead going into the final quarter by closing out the first eight minutes of play with a 5-0 – started by two free throws by Brevon Johnson, with 1:19 left and a 25-foot, banked three-pointer by Webb at the buzzer.
Webb, along with Silver, led the Wildcats with six points.
Montgomery Central had taken its first lead of the game, 10-8, at the 2:39 mark of the opening quarter on a basket by Burney – which was part of a 10-0 run the Indians had put together over a span of 4:05.
The Wildcats took the early lead in the game, scoring the first six points – all by Silver – in the game's first 51 seconds before the Indians got on the board on a basket by Burney, at the 6:55 mark.
Young would add a bucket, at the 6:46 mark, to make it 8-2 Wildcats, before Montgomery Central started their 10-0 run.
Photo Gallery