Murray, KY – The best team blocking effort since 1996 proved just enough as Austin Peay State University's volleyball team scored a five-set (17-25, 25-22, 20-25, 25-18, 15-7) Ohio Valley Conference victory at Murray State, Tuesday night, at Racer Arena.
Austin Peay (12-20, 9-6 OVC) posted 17.5 blocks in the victory, the second-best single match effort in program history and best since the record was set during the 1996 season.
Junior middle blocker Hillary Plybon posted a career-high nine blocks while senior Lauren Henderson and setter Aubrey Marsellis each had seven blocks. Seven Lady Govs ended the night with a block.
"We had an incredible blocking effort tonight," said Lady Govs head coach Taylor Mott. "Our middle blockers and right-side hitters played well, both blocking and attacking, tonight and we needed their effort to pull out the win tonight."
Murray State (15-14, 5-10 OVC) won the first set in wire-to-wire fashion and controlled the first half of the second set, leading 15-5 at one point. However, Austin Peay used a 14-4 run to tie the set, 19-19, and scored four of the final six points to win 25-22.
The Racers took control of a see-saw third set with a 8-1 run, to build a 21-15 lead and didn't look back to take a 2-1 lead in the match. Austin Peay dominated the fourth set, including an impressive 8-3 run to build an 18-13 lead they did not relinquish to tie the match.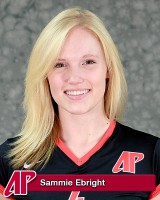 The fifth set was all Austin Peay as they used a pair of 4-0 runs to take a 11-5 lead and exchanged points to win 15-7.
Freshman Sammie Ebright and Marsellis each had 12 kills to lead Austin Peay's offense while Henderson and Plybon each added 10 kills. That quartet's 44 combined kills accounted for the bulk of Austin Peay's 56-kill performance.
Emily Schmahl and Taylor Olden each had 15 kills to pace the Murray State offense, which finished with 60 kills.
Austin Peay closes its regular-season slate with a 5:00pm, Saturday contest at regular-season champion Morehead State. The Eagles saw their record 36-match OVC win streak stopped with a loss at Eastern Kentucky, Tuesday.