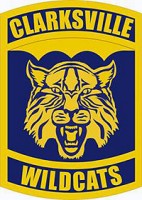 Clarksville, TN – Clarksville High School boys basketball team picked a bad time to go almost two and a half minutes without a field goal, November 12th at William Workman Gymnasium, as Beech High School rallied for a four-point Hall of Fame Game victory over the Wildcats, 57-53.
Leading 46-45 following a basket by Tariq Silver with 4:07 to go in the game, Clarksville High (0-1) wouldn't score again for the next 2:26, while the Buccaneers hit four of five free throws over that stretch to take the lead for good, 49-46.
Silver finished with 10 points, while J.J. Jones led all Wildcat scorers with 14 points.
The Wildcats would end the scoring drought with a basket by Jeff Webb, with 1:41 left to make it 49-48, but Beech would get a bucket from Drew Pentecost and two free throws from Philip Baites – while CHS' Cameron Stiff missed two free throws – to go up five, 53-48 with 33.1 seconds left in the game.
Clarksville High would cut the margin to three, 53-50, on a basket by Stiff with 18.4 seconds left, but saw Baites push it back to five, three seconds later, on two free throws.
Baites led all scorers with 29 points.
Beech would leave the door ajar for the Wildcats with 5.3 seconds left, as the Bucs fouled Teal Young on a three-point attempt, with Young nailing all three free throws attempts to make it a two-point game, 55-53.
But Beech's Parker Henry sealed the victory for the Bucs with two final free throws, with 4.2 second left for the 57-53 win.
Henry would finish with 10 points, as did Pentecost.
In the first half, the game was tight throughout, with four ties and seven lead changes in the open quarter, with Beech holding a 16-13 lead after eight minutes of play.
In the second quarter, the Wildcats opened the period by scoring the first seven points to take a 20-16 lead, with 7:00 minutes left before intermission.
Beech would answer right back to tie the game for the fifth time, 20-20 with 6:04 left.
The two teams would go back-and-forth the rest of the quarter, with one more tie at 27-27, and three more lead changes – including on the final basket of the first half by CHS' Jones to give the Wildcats a 32-31 advantage heading into halftime.
In the second half, Clarksville High would go up three, 34-31 on a bucket by Stiff, but Beech followed with six straight points to take a 37-34 lead with 5:08 left.
The Bucs would hold on to that lead until the final 1:53, when Silver's basket gave the Wildcats a 40-39 lead – which they extended out to three points on two free throws by Jones to make it 42-29 Wildcats at the end of three quarters.
Clarksville High returns to action November 14th, as they host Franklin High School in a Hall of Fame Game.
Box Score
| | | | | | |
| --- | --- | --- | --- | --- | --- |
| | 1 | 2 | 3 | 4 | Final |
| Beech High School Buccaneers | 16 | 15 | 8 | 18 | 57 |
| Clarksville High School Wildcats | 13 | 19 | 10 | 11 | 53 |
Beech: Derrick Wilcox 6, Philip Baites 29, Corey White 2, Parker Henry 10, Drew Pentecost 10. Team totals 18 19-26 57.

Clarksville High: Cameron Stiff 9, J.J. Jones 14, Teal Young 9, Tariq Silver 10, Avery Bates 1, Jeff Webb 7, Derek Suiter 3. Team totals 21 9-16 53.

3-point field goals: Beech 2 (Baites 2), Clarksville High 2 (Jones 1, Suiter 1).
Records: Beech 1-0, Clarksville High 0-1.