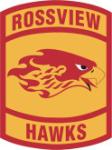 Clarksville, TN – The first game of the season for the Rossview Hawks came down to the last second. The Gallatin Green Wave had a couple of opportunities to steal the game, but could not get it done. The Hawks held on to win 64-59.
The Hawks had only a 3-point lead, 62-59 with 26 seconds left in the game.
Green Wave Devonte Williams grabbed the rebound off a Hawk's missed free throw and passed it up court. He quickly got the ball back and attempted a 3-pointer to the game.
Williams shot fell short, but the Green Wave got the rebound and another chance to tie the game. The second 3-point attempt was by Robert Clayton.
Clayton had already made 3 baskets from downtown earlier in the game, but he missed this one. The Hawks got the rebound and made two free throws after being fouled to win the game.
Clayton scored 20 points in the game. Williams and Jake Snow both scored 14 for the Wave. Williams also had 8 rebounds.
Nine different Hawks scored in the game. Cannon Campbell led the team with 16 points. Jalen Wheat scored 8. Luis Amnesty added 5.
The Hawks out-rebounded the Wave 24-19. The Wave got to the free throw line more often, making 13 of 20. The Hawks shot 4 of 7 from the stripe.
The Hawks played a full court trap and constantly rotated all five players. The defensive pressure paid off in the first half, producing 15 Wave turnovers.
The turnovers helped the Hawks outscore the Wave 25-16 in the second period and gave them a 34-27 halftime lead.
The Wave were more successful passing out of the trap in the second half. But 3-point shots by Campbell helped them keep their lead in the third period. Campbell made four 3-pointers in the second half. The Hawks made 10, 3-pointers in the game.
The Wave outscored the Hawks 18-13 in the fourth period. Clayton made his last 3-pointer with 1:05 remaining in the game as part of a 10-3 Wave run that closed the gap to just three points with less than 30 seconds left in the game.
Next, the Hawks will hit the road to play Cheatham County Friday, November 15th.