Tennessee Titans (4-6) vs. Oakland Raiders (4-6)
Sunday, November 24th, 2013 | 3:05pm CST
O.co Coliseum | Oakland, CA | TV: CBS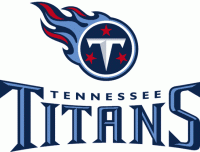 Nashville, TN – The Tennessee Titans (4-6) play their first of three consecutive road games this week, traveling to Oakland to face the Raiders (4-6) in a late afternoon matchup. Kickoff at O.co Coliseum (capacity 53,286) is scheduled for 3:05pm CST on Sunday, November 24th.
The Titans have not played at Oakland since the 2004 season and have not won at O.co Coliseum since 2001. They have taken the two most recent battles in Tennessee (2007 and 2010), although the Raiders hold a 27-19 overall series lead, including playoffs.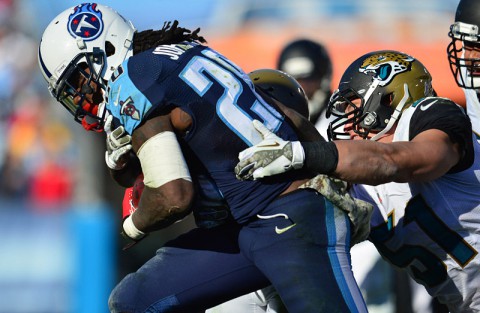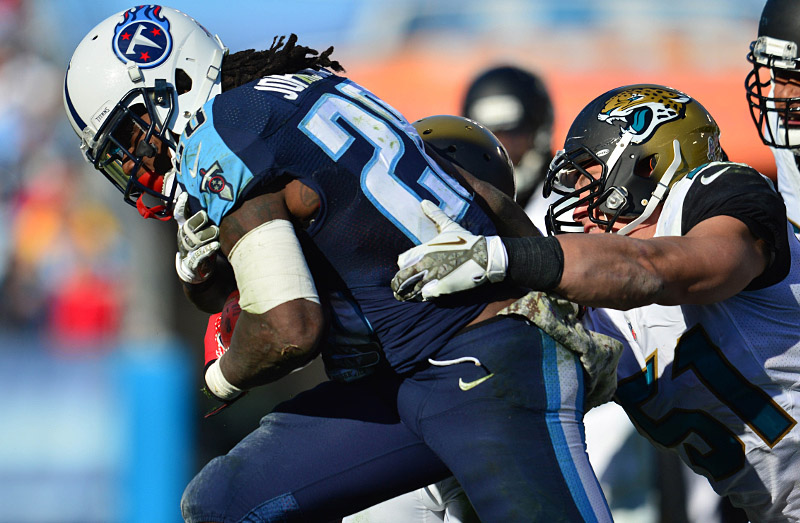 This week's game will be televised regionally on CBS, including Nashville affiliate WTVF NewsChannel 5. Marv Albert will handle play-by-play duties while Rich Gannon provides analysis.
The Titans Radio Network, including Nashville flagship 104.5 The Zone, will broadcast the game across the Mid-South with the "Voice of the Titans" Mike Keith, analyst Frank Wycheck, sideline reporter Cody Allison and gameday host Larry Stone.
Additionally, WestwoodOne Sports will broadcast the game to a national radio audience. Dave Sims (play-by-play) and Mark Malone (analyst) will have the call.
Last Week vs. Indianapolis Colts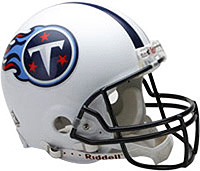 The Titans hosted the Indianapolis Colts last week on Thursday Night Football and were unable to hold an early lead, eventually falling by a final score of 30-27.
Chris Johnson capped each of the team's first two possessions with touchdown runs (30 and seven yards) and finished the first half with 80 yards on 13 rushing attempts. Yet in the second half, he was limited by the Colts to four carries for six yards.
Ryan Fitzpatrick started at quarterback for the third time in 2013 and the first time since Jake Locker (seven quarterback starts in 2013) was placed on injured reserve with a foot injury.
Fitzpatrick was an efficient 22-of-28 passing against the Colts for 222 yards and a touchdown, no interceptions and a passer rating of 111.6. His 78.6 percent completion rate established a new career high through nine NFL seasons with the St. Louis Rams, Cincinnati Bengals, Buffalo Bills and Titans.
Fitzpatrick's two primary targets last week were tight end Delanie Walker and wide receiver Kendall Wright, who together accounted for 19 of his completions. Walker led the team with 10 receptions for 91 receiving yards, while Wright caught nine passes for 80 yards.
However, once the Titans established a 17-3 lead in the first half, the Colts stormed back to take the lead with 20 unanswered points. The Titans pulled to within three points with less than two minutes remaining in the fourth quarter, but a failed onside kick attempt sealed the outcome in the Colts' favor.
The Oakland Raiders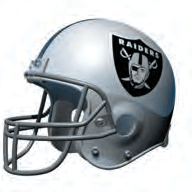 The Raiders are in their second year under head coach Dennis Allen. The NFL's youngest head coach was hired in 2012 after 10 years as an NFL assistant. In 2011, he was the defensive coordinator for the Denver Broncos as the team won the AFC West.
Last week, the Raiders traveled to Houston and defeated the Texans 28-23. Undrafted rookie Matt McGloin made his first career start at quarterback and completed 18 of 32 passes for 197 yards, three touchdowns and no interceptions in the victory. McGloin, the same as Titans head coach Mike Munchak, is a native of Scranton, PA, and a graduate of Penn State University.
McGloin was in the lineup in place of the injured Terrell Pryor, who has started eight games this season but was ruled out of the game at Houston due to a knee injury. The third-year veteran from Ohio State has passed for 1,559 yards and five touchdowns in 2013, while also rushing for 504 yards, the high mark this season among NFL quarterbacks.
Titans-Raiders Series AT A Glance
Overall series (regular & postseason): Raiders lead 27-19
Regular season series: Raiders lead 23-19
Postseason series: Raiders lead 4-0
Total points: Titans 1,041, Raiders 1,114
Current streak: Two wins by Titans
Titans at home vs. Raiders: 15-11
Titans on road vs. Raiders: 4-16 (including 0-4 in playoffs)
Longest winning streak by Titans: 4 (1961-62)
Longest losing streak by Titans: 9 (1966-73)
Titans vs. Raiders at LP Field: 4-1
Last time at LP Field: Raiders 13 at Titans 38 (9/12/10)
Titans vs. Raiders at O.co Coliseum: 1-11
Last time at O.co Coliseum: Titans 35 at Oakland 40 (12/19/04)
First time: Oilers 37 at Raiders 22 (9/11/60)
Mike Munchak's record vs. Raiders: 0-0
Dennis Allen's record vs. Titans: 0-0
Mike Munchak's record vs. Dennis Allen: 0-0
A Titans Victory Would
Give the Titans their second all-time win at O.co Coliseum and their first since December 22nd, 2001.
Improve Mike Munchak's career record as a head coach to 20-23.
Improve quarterback Ryan Fitzpatrick's career record as a starter to 25-46-1.
What To Look For This Week
K Rob Bironas needs 13 more points to become the second player in franchise history (Al Del Greco) to reach 1,000 career points.
RB Chris Johnson can record his second 100-yard rushing game of 2013 and the 35th 100-yard rushing game of his career.
S Bernard Pollard needs 10 tackles to record his third career season with at least 100 tackles and first since 2010.
CB Alterraun Verner (five interceptions in 2013) needs one interception to become the first Titans player since Michael Griffin in 2008 (seven interceptions) to record six or more interceptions in a season.
WR Nate Washington needs 10 more receptions to become the 13th player in franchise history to reach 250 career receptions with the team (exludes his career with the Steelers).
WR Kendall Wright needs six receptions to exceed his 2012 rookie total of 64 receptions.
Titans-Raiders Series History
There have been 46 all-time regular season and postseason games between the Titans and Raiders organizations, two of the original eight members of the American Football League.
The rivalry has been filled with historically significant contests, including their very first matchup. On September 11th, 1960, the Houston Oilers defeated the Raiders 37-22 in the first game of either franchise's existence.
The Raiders currently hold a 27-19 advantage in the series, including a 4-0 mark against the Titans in postseason play. They have met in an AFL Playoff Game (1969), an AFL Championship Game (1967), an AFC Wild Card Game (1980) and most recently the 2002 AFC Championship Game.
The Raiders have a considerable lead in the series at home. The Oilers/Titans have won only four of 20 games on the road against the Raiders, including a mark of 1-11 at O.co Coliseum.
The Titans have achieved their greatest margin of victory in a game against the Raiders (55-0 on 9/9/61) but also suffered their third-worst defeat against them (56-7 in a playoff game on 12/21/69).
They played in every season from 2001-05, including two meetings during the 2002 campaign, both of which resulted in Titans losses at Oakland — the first in the regular season and the second in the AFC Championship Game.
The two most recent Titans-Raiders matchups came at LP Field, where the Titans won 13-9 in 2007 and 38-13 in 2010.
Titans-Raiders: The Last Meeting
Oakland Raiders 13 at Tennessee Titans 38
Sunday, September 12th, 2010
LP Field, Nashville, TN
| | | | | | |
| --- | --- | --- | --- | --- | --- |
| | 1 | 2 | 3 | 4 | Final |
| Oakland Raiders | 3 | 3 | 0 | 7 | 13 |
| Tennessee Titans | 10 | 14 | 7 | 7 | 38 |
The Titans created big plays, sacks and turnovers in the 2010 season opener against the Oakland Raiders, and the result was a 38-13 victory in front of a sold-out LP Field crowd.
Quarterback Vince Young completed a pair of touchdown passes and set a career high (minimum 14 attempts) with a passer rating of 142.8. Running back Chris Johnson rushed for two scores en route to a 142-yard performance, and Javon Ringer rushed for the team's other touchdown.
Meanwhile, the Titans sacked Raiders quarterback Jason Campbell four times and added a number of additional pressures and hits on the signal caller. They forced Campbell to fumble twice (recovered one) and intercepted him once. On third down, the Raiders converted three of 14 attempts, and in four trips to the red zone, they scored a touchdown just once.
The Raiders took the first lead of the game, capitalizing on a strip-sack by Kamerion Wimbley and recovery by Richard Seymour. Sebastian Janikowski initially missed a 39-yard field goal attempt, but an offsides penalty on the Titans provided a second opportunity for a 34-yarder, which was good.
On the ensuing possession, Young found Nate Washington for a 56-yard touchdown pass, giving the Titans a 7-3 lead in the first quarter.
Then, Titans defensive end Jacob Ford sacked Campbell and forced a fumble. Safety Michael Griffin recovered the ball and raced 23 yards for a touchdown. However, the Raiders challenged the call, and the review revealed Griffin was down by contact prior to scoring. The Titans settled for a 43-yard field goal.
The Titans extended their lead with 14 points in the second quarter. During an eight-play, 61-yard drive, Young connected with Washington for a 21-yard gain on third-and-nine, and five plays later, Ringer ran for a 15-yard touchdown. They wasted little time on their next drive, as Johnson took the first play of the series 76 yards for a touchdown.
The Raiders ended the Titans' run of 24 consecutive points with a 30-yard field goal by Janikowski with 16 seconds remaining in the second quarter.
In the third quarter, Janikowski missed a 53-yard field goal, giving the Titans good field possession. On the 10th play of their ensuing drive—one in which the Titans converted three third downs—Johnson rushed for a four-yard score.
Safety Chris Hope intercepted a Campbell pass in the final minute of the third quarter and returned the ball 32 yards to Oakland's three-yard line. On third-and-goal from the one-yard line, Young completed his second touchdown pass of the day, locating tight end Bo Scaife in the back of the end zone.
The Raiders drove 80 yards on 12 plays on the next series, culminating with a seven-yard touchdown pass from Campbell to running back Darren McFadden. However, that concluded the scoring on the afternoon. The Raiders moved deep into Titans territory one more time, but turned the ball over on downs at the 14-yard line.
The Titans rushed for 205 yards, and they were able to convert 53 percent (eight-of-15) on third down. Young was efficient, completing 13 of 17 passes (76 percent) for 154 yards, two touchdowns and no interceptions.