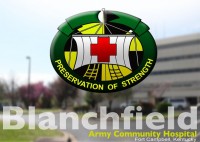 Fort Campbell, KY – In honor of the national observance of Thanksgiving, Blanchfield Army Community Hospital (BACH) personnel will observe the federal holiday Thursday, November 28th and the associated Day of No Scheduled Activities (DONSA) Friday, November 29th.
All clinics and pharmacies will be closed Thanksgiving Day and Friday, November 29th, except for the Town Center Pharmacy, which will be open Friday, November 29th from 8:00am to 5:00pm and also open normal business hours Saturday, December 1st from 8:00am to 5:00pm.
The Emergency Center will continue to remain open 24 hours, seven days a week throughout the holiday season.
"Thanksgiving is a time to enjoy the company of family, friends and loved ones as we give thanks for the blessings and freedoms we experience in this great country," said BACH commander Col. George N. Appenzeller. "The brave men and women of our Armed Forces, both past and present, help make these freedoms possible. Our BACH care team proudly serves the Fort Campbell community and extends our heartfelt wishes to the surrounding communities for a wonderful and safe Thanksgiving."