Clarksville, TN – Clarksville native Ben Reed has written his first book, "Starting Small: The Ultimate Small Group Blueprint," designed to help church leaders build and maintain a vibrant and exciting bible study experience, and worship experience, to help people of all ages grow spiritually, and enjoy life to it's fullest through the word of God.

Reed is a small groups pastor at Long Hollow Baptist Church in Hendersonville Tennessee, having spent several years as a pastor at Grace Community Church in Clarksvlle, TN.

Reed graduated from the Southern Baptist Theological Seminary and his focus was in Theology and Biblical Counseling, but his passion lies in helping people apply the word of God to their lives, right in the middle of life's biggest questions and heartaches.

In an interview with Clarksville Online, Ben explains his motivation for writing the book.

"The book is for churches of all sizes who want to build a better small group environment where the spiritual growth and interaction really occurs," says Reed.  "The book is not necessarily geared to my generation, but to any one who wants to grow together through bible study and worship."

"Churches need to move people to small groups so they can really benefit from the worship experience in the large group gathering.  My purpose is to help churches push their small groups and their leaders "down the field" for the best overall experience," according to Reed.

His book sets out to teach church leaders how to avoid mistakes in building a small group ministry, by first understanding the "why" and not the "what" in small groups.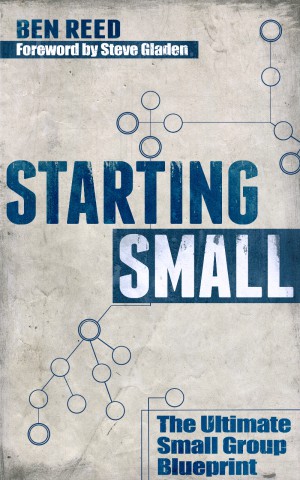 "A lot of churches don't identify "why" they want a small group program, and instead, focus on "what" their small group should be.  I think before a church can establish a productive small group environment, they need to know and understand "why" they're doing it in the first place," said Reed.
"Starting Small:  The Ultimate Small Group Blueprint," also teaches the value of small groups in the life of your church, how to start a small group, building spiritual health into your small group, and how to assimilate unconnected people into small groups, among other things.
What's the first thing a church should do when establishing their small group program?
"Identify your leaders, pure and simple" he says. Your church must identify leaders who love God, love people and are coachable" according to Reed.
Steve Gladen, Small Groups Pastor at Saddleback Church, and author of "Small Groups with a Purpose and Leading Small Groups with Purpose" said of Reed's book; "Whether you're a small group veteran or a rookie, this book will help you think practically about raising the bar for your church's small group strategy.  You'll be encouraged and challenged.  I think you'll enjoy the ride.  This book will help your church, it has mine."
Ben is a lover of good coffee, golf, running, biking and CrossFit.  He and his wife Laura have one son and are expecting a daughter soon.
You can purchase a copy of "Starting Small:  The Ultimate Small Group Blueprint" at www.amazon.com
To contact pastor Ben Reed, visit www.longhollow.com, or www.benreed.net.
About Hank Bonecutter
Sections
Spirituality
Topics
Ben Reed, Bible Study, Biblical Counseling, Book review, Church, Clarksville, Clarksville Online, Clarksville Tennessee, Clarksville TN, crossfit, God, Hendersonville TN, Laura Reed, Saddleback Church, Small Group, Small Groups with a purpose and Leading Small Groups with Purpose, Southern baptist Theological Seminary, Starting Small The Ultimate Small Group Blueprint, Steve Gladen, Tennessee, theology, Worship