Nashville, TN – First there was "Black Friday," the day after Thanksgiving, when the holiday shopping season officially begins and retail store ledgers typically go from red ink to black. More recently, the Saturday after Thanksgiving has been dubbed "Small Business Saturday" to remind shoppers to include local businesses in their search for perfect presents.

This year, Small Business Saturday is November 30th. For those who like to live local, this is a great time to remember that it's also possible to give local by choosing farm direct and locally made gifts.

Tennessee's Pick Tennessee Products website, www.picktnproducts.org , is ready for the holiday rush with options for gift baskets, corporate gifts, foods made with local ingredients, and artisan farm products ranging from local cheeses and handmade soaps to smoked bacon or beeswax candles.

Holiday recipes featuring seasonal fresh or locally produced ingredients are available not only on the website but through social media like Pinterest, as well.

When visitors click "Shop Now" on the PTP home page, The Taste of Tennessee Online Store provides links to local businesses that conduct "e-commerce," meaning that items can be ordered and sent online with a credit card.

The online store features a wide variety of upscale and specialty products in addition to Tennessee's traditional farm fare including handmade artisan chocolates, farm-milled flours and fine rums. E-shoppers can send, straight from a farm, local honey or sorghum syrup, a naturally raised fresh turkey—or even a Christmas goose.

Not all Tennessee farmers and artisan food makers conduct e-commerce, but still sell and send items when contacted via telephone. The farmers and producers of these foods are not included in the online store but are listed by food category in the Pick Tennessee Products "Food" section.

Several companies specialize in gift baskets made with Tennessee farm products. Click "Shop Now," then click the gift basket image to go directly to Tennessee gift basket companies. Gift baskets are also an option from some other Taste of Tennessee producers with their online stores who produce items like sauces and jellies.

Many of Tennessee's wineries are also happy to put together and send a basket of items from their gift stores or add a lucky name and address to their wine clubs, sending regular shipments of their wines to club members.  The directory of Tennessee wineries is linked with the gift baskets page.

Find holiday recipes, farms and retail stores with local products, seasonal farm products, wineries and gift baskets at www.picktnproducts.org .
Fresh Apple Cake with Brown Butter Frosting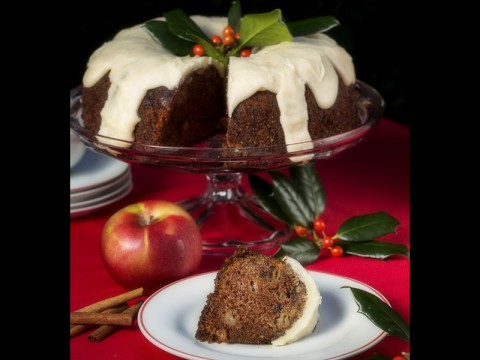 Ingredients
1-1/2 cups butter, divided
2 cups granulated sugar
2-1/2 cups all-purpose flour
2 teaspoons baking soda
1/2 teaspoon salt
2 teaspoons ground cinnamon
3 eggs
1-1/2 teaspoons pure vanilla extract, divided
4 cups coarsely chopped Gala, McIntosh or Golden Delicious apples
1 cups chopped pecans
3-1/2 cups powdered sugar
2 to 3 tablespoons milk
Instructions
Preheat the oven to 350 degrees. Grease and flour a 12-cup fluted tube cake pan and set aside.
Place 1 cup of the butter and the granulated sugar in the bowl of an electric mixer and beat 2 minutes until light and fluffy.
Meanwhile, in a separate bowl, combine the flour, baking soda, salt, and cinnamon and set aside. Add the eggs to the butter mixture one at a time, blending well after each addition. Reduce the mixer speed to low and fold in 1/2 teaspoon of the extract. Add the flour mixture gradually, mixing well. Fold in the apples and pecans.
Transfer to the prepared baking pan and bake 50 to 60 minutes or until a cake tester inserted in the center comes out clean. Immediately transfer to a wire rack to cool.
In a large saucepan over medium-high heat, melt the remaining butter, stirring constantly for 3 to 4 minutes or until golden brown.
Add the powdered sugar, the remaining extract and enough milk to make the frosting smooth. Spread over the top of the cooled cake. Let stand at least 10 minutes before slicing and serving.
Yield: 12 to 14 servings
Sections
News
Topics
Black Friday, Christmas, Nashville TN, Pick Tennessee Products, recipe, Small Business Saturday, Thanksgiving, Wineries