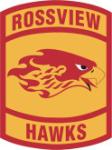 Clarksville, TN – The Rossview High School wrestling team came away with two wins out of it three home opening matches, December 5th, as they dropped a tightly contested match to a very good private school program in Franklin Road Academy 43-26; before rebounding to defeat Glencliff High 77-6 and Sycamore High 65-18.
In its opening match versus Franklin Road Academy the Hawks got off to a slow start versus the Panthers in dropping their first six matches, before Dominic Cerillo got Rossview on the board with a pin at the 3:30 mark in the 105-pound weight class.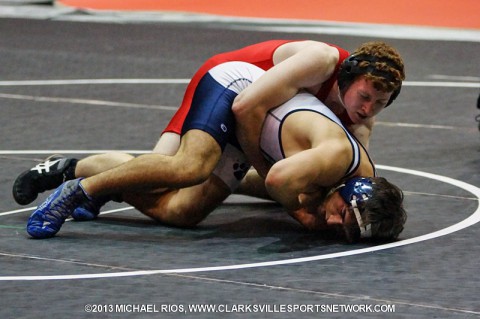 Rossview would also get pins at 132 from Adrian Gonzalez (1:06) and Jake Beatty at 138 – needing only 22 seconds for his victory.
The Hawks would earn decision victories from Anthony Cole (12-0) in the 120-pound class and Connor Gordon (9-0) at 152.
The win for Gordon was his 100th victory as a Hawk.
"Connor wrested up at 152 from 145 in all three matches tonight and he produced," Rossview coach Daniel Cozine said. "We knew that the 152 class would be stronger today and we want to look for the strength of schedule for him to get the tougher matches.
"I'm also happy for him in picking up his 100th win, but it's still early in the season and he could add another 30 or so before it's over."
The difference in the match would come down to three close losses for the Hawks, as Tyler Hayes (6-4) and Christian Sandoval (7-5) dropped two-point results at 125 and 160, while Elijah Abdo (6-5) was edged by a point at 145.
"We were still happy with our performance, but we left to many points out on the mat," Cozine said. "We'll look at the tape and go back to work and correct some of the things we didn't do tonight and get better."
In the Hawks match versus Glencliff, Rossview won six of the seven contested weight divisions, while also picking up six wins by forfeit.
Earning pins versus the Colts were Gonzalez (0:55) at 132, Abdo (0:27) at 145, Gordon (2:17) at 152, Chris Wilson (1:02) at 160 and Lorenzo Smith (1:33) at 160.
The lone Glencliff victory came at 182 by a pin by Dedy Cardona.
The final match of the night versus Sycamore started with a pair of girls exhibition matches, with Rossview's Abby Hawk earning a pin (2:16) at 105, while Rebecca Prairie was pinned (0:44) by Morgan Camper.
Following the exhibition matches, the Hawks won seven of the 10 contested matches, while picking up four wins by forfeit.
Recording pins versus the War Eagles were Cole (4:51) at 120, Gonzalez (2:41) at 132, Beatty (0:51) at 138, Abdo (0:45) at 145, Gordon (2:28) at 152, Hayes (2:48) at 160 and Smith (0:58) at 170.
Sycamore earned pins in the 125, 220 and 285 weights.
Rossview will return to the mats on December 7th, as they travel to Mt. Juliet High School to participate in the Mt. Juliet Duals, beginning at 7:00am.
Photo Gallery