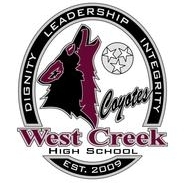 Clarksville, TN – After battling to a one-point deficit at halftime, the West Creek Coyotes rallied down the stretch to beat District 10-AAA conference foe Northwest Vikings, 60-49 Tuesday night.
Down 28-29, the Coyotes opened the third period with a 15-2 run which gave them a 12-point lead. However, by the middle of the fourth period the Vikings had come back to within one, 45-44.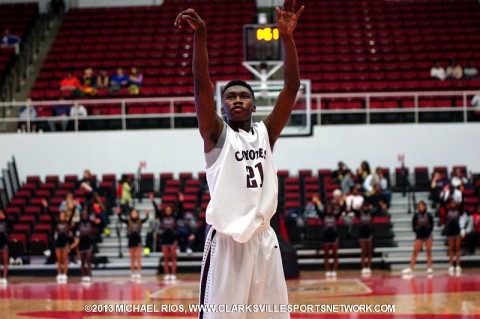 With the finish line in sight, it was the Coyotes who made the push to take the win. They made a 10-2 run that left the Vikings behind and winded.
"We answered the bell tonight," Coyotes head coach Vincent Turner said. "We went up maybe 10 or 11 and then Northwest cut it to one I think. We could have folded right there. Maybe in the past, we might have folded. In the past year or so we might have folded on that one, but not this year. These kids have worked really hard. We just told the kids in the timeout to relax, lets do what we do, trust each other and we will make those plays. We did. We had a nice little spurt where we made five or six in a row and that kind of made our separation for us. "
Both teams started fast and made human highlight plays to make their fans cheer. But the Coyotes appeared to have more energy for key plays late in the game.
"I thought in the middle of the third we started seeing them start to gasp a little bit," Turner said. "He is having to go deeper in his bench and the guys coming off are not quite as strong as maybe Elijah and number 10. We felt like, because our guys are all about the same, there is not a huge drop off for us."
Jachin Almon led the Coyotes with 18 points. Almon scored 11 of the 18 in the second half. Mo Pressley scored 8 of his total 14 in the third quarter during the Coyotes 15-2 run. Pressley also led his team with 6 rebounds.
Tremon Moore scored 13 points for the Vikings. Dezman Stacker added 11. Eight different Vikings scored in the game.
"We're not very big. We're kind of small and we think our energy level is going to wear teams down. We keep telling the kids in the locker room it's a game of attrition. You are going to wear guys down," Turner said.
"Obviously, our size hurts us a little bit. We just have to make it up with hustle and heart. That's a big deal. That can make up for a lot of little things and that is what we keep preaching to the kids. They are starting to buy it and they are playing like it. We are really excited right now about the way we are playing."
Box Score
Northwest Vikings 49, West Creek Coyotes 60
| | | | | | |
| --- | --- | --- | --- | --- | --- |
| | 1 | 2 | 3 | 4 | Final |
| Northwest Vikings | 19 | 10 | 8 | 12 | 49 |
| West Creek Coyotes | 13 | 15 | 17 | 15 | 60 |
West Creek: Jachin Almon 18, Mo Pressley 14, Stephen Jackson 6. Davon Jones 6, Michael Hardison 5, Kistler Fletcher 9, Demari Taylor 2
Northwest: Tramon Moore 13, Dezman Stacker 11, Tremon Morris 7, Elijah McCoin 6, Fred Hill 4, Ramont Lewis 4, JaRyan Young 2, Markel Kea 2