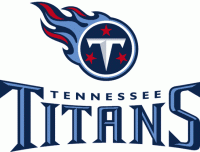 Nashville, TN – Late in the fourth quarter, the Tennessee Titans (5-9) were down 34-17 to the Arizona Cardinals (9-5) when they scored 17 straight points in the final 3:12 to force overtime. The Titans tied the game when quarterback Ryan Fitzpatrick connected with Michael Preston for an 8 yard touchdown pass with 0:14 second left to play.
In overtime, Tennessee won the toss. On the third play of the drive, Fitzpatrick's pass to Preston was intercepted by Antoine  Cason at the Arizona 30 and run back 16 yards. The Cardinals used a heavy dose of runningback Rashard Mendenhall to move the ball to the Titans 23 yard line. From there, Jay Feely kicked a 41 yard field goal to give Arizona a 37-34 victory.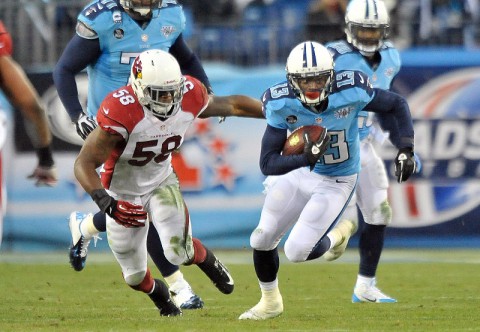 "Unfortunately, we've been in not quite this comeback, but it seems like we're one score, one play away from winning a lot of football games this year. I was really proud of how they played," stated Titans head coach Mike Munchak.
The game was tied 10-10 at halftime. Arizona got the ball first in the second half and moved the ball down to the Tennessee 29. Feely kicked a 47 yard field goal to make it 13-10 Cardinals.
Tennessee answered on the next possession taking the ball from their own 26 down to the Arizona 1 yard line. Fitzpatrick hits Delanie Walker in the back of the end zone for a 1 yard touchdown.
Getting the ball on the Titans 26, the Cardinals answered back with a 72 yard drive capped by a 6 yard touchdown pass from Carson Palmer to tight end Jake Ballard. Later in the 4th quarter, Rashard Mendenhall rushes up the middle for a 1 yard touchdown giving Arizona a 27-17 lead.
On Tennessee's next possession, Fitzpatick is intercepted by cornerback Antoine Cason on a pass intended for Nate Washington. Cason runs the ball back 20 yards for a touchdown putting the Cardinals up 34-17.
With 6:13 left in the game, the Fitzpatrick leads the Titans down the field to the Arizona 10 where he hits wide receiver Michael Preston for a 10 yard touchdown.
The Titans force the Cardinals into a three and out getting the ball back with 2:24 left. Tennessee moves the ball to the Arizona 6. On 4th and 2, the Titans bring on Rob Bironas who kicks a 24 yard field goal bring Tennessee within 7 of Arizona with 0:47 remaining.
Tennessee's Daimion Stafford recovers the ensuing onside kick giving the Titans the ball on their own 46. Fitzpatrick then connects with Kendall Wright for a 26 yard catch and a 20 yard catch. With 0:14 left to play, Fitzpatrick throws an 8 yard pass to Preston for the game tieing touchdown.
Fitzpatrick threw for 402 yards and 4 touchdowns for Tennessee. He was also picked off twice. Chris Johnson had 40 yards on 13 carries.  He also caught 3 balls for 51 yards. Wright led all receivers with 150 yards on 12 receptions. Nate Washington pulled in 7 catches for 92 yards.
"That's a game we're supposed to win. For us to come back 17 points down late like that, to win the toss, get the ball, you know be at home, all that stuff…it's that the ending really scripted there, but unfortunately it happened. I am really proud of the way we fought on offense today," said Fitzpatrick.
For Arizona, Palmer had 231 yards and 1 touchdown. Mendenall had 21 rushes for 69 yards and 2 touchdowns. Andre Ellington rushed for 71 yards on 10 attempts. He was also the Cardinals leading receiver with 87 yards on 4 catches. Larry Fitzgerald caught 6 balls for 49 yards.
The win keeps Arizona's playoff hopes alive. They will likely need to win their next two games against the Seattle Seahawks and San Francisco 49ers to continue their season.
"A win would have been obviously a great thing. That's what we needed here, a win and then two more with two division games coming. Unfortunately, we rallied and we did some great things," said Munchak. "I'm very proud of these guys, but again, we have to find ways early in the game. When we have a chance to make plays to make them early, and not put ourselves in the situation that we're putting ourselves in. Unfortunately, when we get down to these last drives, last-play situations, we haven't been finishing enough of these games."
The Tennessee Titans are on the road next week taking on the Jacksonville Jaguars Sunday, December 22nd. Kickoff is at 12:00pm CT.
Box Score
Arizona Cardinals at Tennessee Titans
Nashville, TN | LP Field
| | | | | | | |
| --- | --- | --- | --- | --- | --- | --- |
| | 1 | 2 | 3 | 4 | OT | Final |
| Arizona Cardinals | 7 | 3 | 10 | 14 | 3 | 37 |
| Tennessee Titans | 10 | 0 | 7 | 17 | 0 | 34 |
Arizona Cardinals
Passing
CP/AT
YDS
TD
INT
C. Palmer
20/30
231
1
0
Rushing
ATT
YDS
TD
LG
A. Ellington
10
71
0
22
R. Mendenhall
21
69
2
15
S. Taylor
3
6
0
3
C. Palmer
2
-1
0
0
Receiving
REC
YDS
TD
LG
A. Ellington
4
87
0
38
L. Fitzgerald
6
49
0
18
M. Floyd
2
33
0
20
B. Golden
1
16
0
16
A. Roberts
2
15
0
12
J. Ballard
3
13
1
7
J. Dray
1
9
0
9
R. Mendenhall
1
9
0
9
Fumbles
FUM
LOST
REC
YDS
L. Sendlein
1
0
0
-7
M. Benard
0
0
0
0
A. Cason
0
0
1
0
C. Palmer
0
0
1
0
Kicking
FG
LG
XP
PTS
J. Feely
3/3
47
4/4
13
Punting
NO
AVG
I20
LG
D. Zastudil
4
43.5
1
58
Kickoff Returns
NO
AVG
TD
LG
J. Arenas
3
24
0
28
Punt Returns
NO
AVG
TD
LG
P. Peterson
0
0
0
0
Tennessee Titans
Passing
CP/AT
YDS
TD
INT
R. Fitzpatrick
36/58
402
4
2
Rushing
ATT
YDS
TD
LG
C. Johnson
13
40
0
15
R. Fitzpatrick
3
22
0
17
S. Greene
3
4
0
6
Receiving
REC
YDS
TD
LG
K. Wright
12
150
0
26
N. Washington
7
92
0
33
D. Walker
8
53
1
22
C. Johnson
3
51
1
25T
K. Britt
3
29
0
13
M. Preston
3
27
2
10T
Fumbles
FUM
LOST
REC
YDS
P. Bailey
1
1
0
0
R. Fitzpatrick
1
0
0
0
L. Washington
1
0
1
0
B. Schwenke
0
0
1
2
Kicking
FG
LG
XP
PTS
R. Bironas
2/3
45
4/4
10
Punting
NO
AVG
I20
LG
B. Kern
3
48.3
2
51
Kickoff Returns
NO
AVG
TD
LG
L. Washington
6
23
0
33
P. Bailey
1
0
0
0
Punt Returns
NO
AVG
TD
LG
L. Washington
2
9
0
9