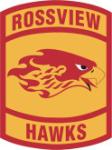 Clarksville, TN – Rossview High School picked up its first ever win at the William Workman Gymnasium, January 3rd, as it survived two last-second three-point field goal attempts by Clarksville High in defeating the Wildcats 56-53 in a District 10-AAA thriller.
The Hawks (4-5, 3-1 District 10-AAA) held a slim 54-53 lead, with 32 seconds left, following a driving baseline jumper by Javon Vaughn.
Clarksville High (5-10, 1-3 District 10-AAA) missed on its next possession and fouled the hawks leading scorer Julian Thompson-Clay with 17.4 seconds left – sending him to the line to shoot two free throws.
Thompson-Clay — who finished with a game-high 29 points, including hitting eight straight free throws — missed both attempts.
But it was Rossview's Charles Talleyrand and not the Clarksville High defender, who came up with the rebound on the second miss.
Talleyrand hit the put back and was fouled, sending him to the free throw line with a chance to give the Hawks a four-point lead, with 14.3 seconds left.
He would miss the free throw attempt, giving Clarksville High a chance to tie the game.
The Wildcats would push the ball up, with Jeff Webb getting a three off from the top of the key.
Webb's shot was off the mark, but was rebounded by the Wildcats and has kicked out for a second chance at a three from the right wing.
But that shot also missed the mark and before Clarksville High would get a third chance for the tie, the final horn sounded to give the Hawks the 56-53 win.
Rossview had sent the game into overtime with two free throws, with 15.2 seconds left in regulation by Thompson-Clay to tie the game 48-48.
The Wildcats, who hadn't led since midway through the second quarter, took the lead 47-44 with 1:21 left in regulation on a three-point shot by Teal Young – the third of three straight 3s by Clarksville High.
Young led Clarksville High scorers with 17 points.
The Wildcats would go up four points, 48-44, on a free throw by J.J. Jones, with 1:06 left, but Donterius Peacher knocked down a shot for Rossview to cut it to two points, with 54 seconds left.
Clarksville High, who struggled at the line most of the night going 12 of 22 at the line, had a chance to go back up four with 31.5 seconds left, but Jones missed the front end on a one-and-one to give the Hawks a chance to tie the game in the waning seconds of regulation.
In the first half, the two teams went back-and-fourth early on, with tie scores at 2-2, 5-5 and 7-7, but Clarksville High closed out the first quarter on a 7-2 run to lead after one period, 14-9.
The Wildcats would lead by eight points, 18-10, midway through the second quarter, but didn't score a point over the final 4:39 of the half – while Rossview closed out the first half scoring 13 straight points to take a 23-18 lead into intermission.
The third quarter would see Rossview build its lead out to as many as 10 points, 37-27, during the period before taking a six-point advantage into the fourth quarter, 37-31.
Both teams hit the road for their next District 10-AAA action on January 7th, with Rossview traveling to Henry County High School and Clarksville High going across town to face West Creek High School.
Both games will tip at 7:30pm.
Photo Gallery
Box Score
Rossview 56, Clarksville High 53 OT
| | | | | | | |
| --- | --- | --- | --- | --- | --- | --- |
| | 1 | 2 | 3 | 4 | OT | Final |
| Rossview Hawks | 9 | 14 | 14 | 11 | 8 | 56 |
| Clarksville High Wildcats | 14 | 4 | 13 | 17 | 5 | 53 |
Rossview: Javon Vaughn 9, Cannon Campbell 2, Charles Talleyrand 7, Donterius Peacher 9, Julian Thompson-Clay 29. Team totals 22 11-17 56.
Clarksville High: Jeff Webb 10, J.J. Jones 11, Teal Young 17, Avery Bates 4, Tariq Silver 9, Cameron Stiff 2. Team totals 17 12-22 53.
3-point field goals: Rossview 1 (Vaughn 1), Clarksville High 7 (Webb 2, Young 3, Silver 2).
Records: Rossview 4-5, 3-1 District 10-AAA; Clarksville High 5-10, 1-3 District 10-AAA.