Clarksville, TN – With the Austin Peay State University women's basketball team just starting the Ohio Valley Conference part of their schedule freshman center Tearra Banks has already shown that she could be a force in the middle for years to come for the Lady Govs.
Despite the Lady Govs 3-11 overall record heading into their home game versus Tennessee Martin on Jan. 6
th
, the 6-foot-3 Louisville, KY native has shown in the pre-OVC schedule that she should be a force in the conference where she is averaging 8.6 points and 5.3 rebounds in just over 15 minutes of work per game so far.
"Things are going ok for me," Banks said. "But for the team it hasn't so far, but it's a new season with conference starting, so we're going to go out there and give it our all and do the best that we can to win games."
Twice already this season, Banks has earned OVC Freshman of the Week honors, as well has being named to the all-tournament team at the Wichita State University Winter Classic after posting career highs in scoring (17) and rebounds (12) versus the tournament host Wichita State.
"I'm really proud of the way that she's progressed and maturing into the player that we knew that she would be when we recruited her," Austin Peay coach Carrie Daniels said. "When we get her down low and she gets set and gets that inside position she's such a force for us and can do some tremendous things.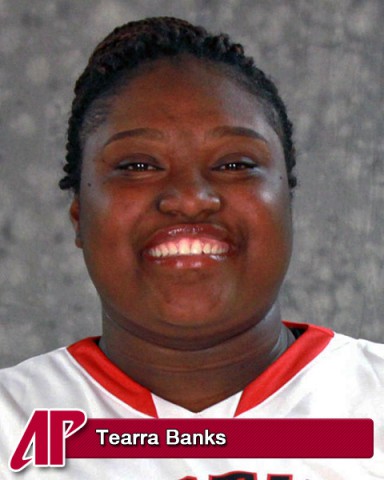 "We're still trying to get her mindset to be a dominate presence on both ends of the floor. We're trying to switch some things around for her to put her into a position to be successful and be a dominate force on the defensive side. With her size there are so many things that she could provide for us defensively."
The double-double versus Wichita State was her scored of the season, with her first coming against Arkansas State University this past November – the first time a freshman had posted a double-double since the 2007-08 season for the Lady Govs.
"When you're playing with a team that you love and they love to have fun it makes things a lot easier," Banks said. "That's what I've found to be so great around here is that we all love to play basketball and we all want to get better every day."
Another striking thing about Banks is her soft hands and great footwork, from a freshman with not only great height, but a big frame to give and take the physical college style of play in the post.
"You don't see a lot of players of her size in our conference and a side from her being as big as she is, she carries her extremely weight well," Daniels said. "She has a tremendous touch and some of the best hands I've seen. She is a dominate left-hander player that has the ability to use her right hand.
"She's also done a go job of drawing double teams at times and being able to read that and made some tremendous inside out passes to our perimeter players."
Now the biggest hurdle for Banks is to continue to build on her conditioning, which will lead to more minutes out on the floor.
"I'm still working on getting in shape." Banks said. "I also have to work on being more confident and not get down on myself as much if I miss a layup or something like that. I just need to be ready to play whenever I get the chance.
"There are a lot of things and goals that I have for myself, but I know the only way I'm going to get them is to keep working hard."
For Daniels, she had no doubt that Banks will continue to raise the bar that they both have set for her, as she continues to get for comfortable with the college game.
"She's such a talent and we're so fortunate to have her here," Daniels said. "The sky's the limit for her, because she's not really tapped in to her full ability and what she's capable of doing.
"If she continues to work — and she wants to work — she wants to learn and be coached, it's exciting what Tearra could be here because she had the ability to do big things here in this program."