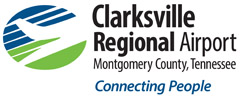 Clarksville, TN – Clarksville Regional Airport announces its new website, www.ClarksvilleRegional.com, which offers users quick and easy access to essential airport services and information.
The website boasts a modern, colorful design which compliments the new airport logo, signage and tagline introduced last summer.
"Clarksville Regional is quickly becoming a top-notch amenity to the City of Clarksville," said Airport Authority Chairman Sammy Stuard. "Business and corporate travelers frequently visit to see what our city has to offer their companies. Clarksville Regional may very well be their first impression and I think it will be a good one."
As part of a 10-year strategic plan to increase traffic at the airport, the new website makes using Clarksville Regional trouble-free and inviting. Users can now access online event space reservations, real-time flight tracking, charter flight reservations, local weather updates and links to local hotels and ground transportation.
BLF Marketing, a local marketing firm, was retained by the Airport Authority to design and implement the website and branding initiatives.
Clarksville Regional Airport Director John Patterson says that "the new website takes our tagline 'Connecting People' one step further. Our customers can now easily go online to make reservations or connect with our airport concierge staff. We are always ready to help and to answer any questions. It is our job to make sure that everyone who comes through the airport facility has a great experience."
The beautiful Clarksville Regional Airport terminal opened its doors in 2012 and offers a number of services to aviation customers and the community. This past summer, a permanent collection of original paintings by renowned aviation artist Ray Waddey opened for public viewing. Airport visitors are encouraged to stop by to enjoy the artist-selected permanent collection of original paintings or the full-size Beechcraft Model 17 Stagger Wing replica hanging in the foyer.
Event spaces at the airport offer customers a unique option for business meetings, community  events, weddings, family reunions and more. Airport staff can help coordinate caterers as needed. All event planning requests can now be initiated on the new airport website – anytime.
Other service enhancements include the Hertz Local Edition car rental office located inside the airport terminal, a customer/pilot lounge, business center, free Wi-Fi access and local concierge service.
For more information about Clarksville Regional Airport services, visit the new website at www.ClarksvilleRegional.com, call 931.431.2080 or send e-mail to .