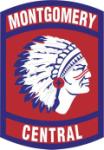 Cunningham, TN – Two free throws from Dalton Perkins and a last-second miss by Hickman County High School, January 9th at the Thomas-Young Gymnasium, sealed away a 52-51 District 11-AA overtime victory for the Montgomery Central High School Indians to move them above .500 on the season and in district play.
Perkins' two free throws for Montgomery Central (7-6, 3-2 District 11-AA) came after the Bulldogs Nathan Clinard had given Hickman County a one-point lead, 51-50, with 31.1 seconds left.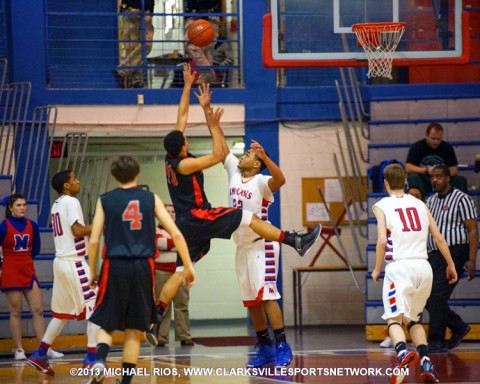 The Indians had led by three points, 50-47, following a three-point field goal from Trey Burney, with 1:23 left, before Hickman County (5-11, 3-5 District 11-AA) cut it to a one-point game on two free throws by Cash Dansby, with 1:09 left; flowed by the go-head bucket by Clinard.
The Bulldogs had opened the overtime period with a bucket from Caleb Lane to make it 47-45, with the Indians Lamont Smith tying the contest 47-47 with a basket at the 2:11 mark.
Hickman County had a chance to win the game in the final seconds of regulation, but its final shot was off the mark, after Burney tired the game 45-45, with 23.3 seconds left with two free throws.
Burney led all scorers with 21 points.
Montgomery Central had led 37-35 heading into the final quarter and still held that margin at 41-39, with 4:25 left.
But Hickman County ran off five straight points to go up 44-41, with 2:04 left in the game, before the Indians Alex Wade's layup cut the margin back to one, with 1:29 left.
After Wade's layup, the Bulldogs' Dansby was fouled, with 37.8 second left, with a chance to force the Indians to need a three to send the game into a overtime, but he was only able to hit one of the two free throw attempts to keep the door open for the Indians to only need a two-point shot or two free throws for the tie.
Dansby led Hickman County with 14 points.
Montgomery Central led 23-21 at halftime, with the two teams playing an even third quarter scoring 14 points each, but it looked like Hickman County may have had the momentum heading into the final quarter, as they scored the final five points of the period to keep it to a two-point game, after the Indians had built a seven-point cushion, 37-30, with 46 seconds to go in the quarter.
The first half saw Hickman County lead for most of the opening quarter, including holding a five-point lead 13-8, with 1:55 left.
But the Indians closed out the period scoring five of the final seven points – including a three-point shot at the buzzer by Blake Bradley — to bring Montgomery Central back to a two-point deficit, 15-13 after eight minutes of play.
The second quarter would see the Indians hold the Bulldogs to only six points in the period, with Montgomery Central taking its first lead of the night, 19-17, on a bucket by Burney, with 5:02 left in the first half.
Hickman County would tie the game 19-19, with 4:46 left, but both teams would struggle with their respective scoring chances the rest of the first half.
The Indians would only score four more points the rest of the opening half, but the Bulldogs only managed two points and Montgomery Central took a two-point advantage into intermission, 23-21.
The Indians return to action January 10th, as they host Camden High School in a District 11-AA contest.
Photo Gallery
Box Score
Montgomery Central 52, Hickman County 51 OT
| | | | | | | |
| --- | --- | --- | --- | --- | --- | --- |
| | 1 | 2 | 3 | 4 | OT | Final |
| Hickman County Bulldogs | 15 | 6 | 14 | 10 | 6 | 51 |
| Montgomery Central Indians | 13 | 10 | 14 | 8 | 7 | 52 |
Hickman County: Caleb Lane 10, Noble Langley-Orie 10, Cash Dansby 14, Hunter Qualls 1, Zach Bentley 2, Brian Sensing 10, Nathan Clinard 4. Team totals 18 15-25 51.
Montgomery Central: Dalton Perkins 7, Blake Bradley 3, Alex Wade 8, Lamont Smith 11, Trey Burney 21, Jordan Nelson 2. Team totals 20 7-10 52.
3-point field goals: Hickman County 0, Montgomery Central 5 (Burney 2, Perkins 1, Bradley 1, Smith 1).
Records: Hickman County 5-11, 3-5 District 11-AA; Montgomery Central 7-6, 3-2 District 11-AA.