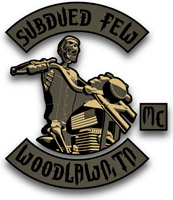 Clarksville, TN – On Saturday, February 1st, the Subdued Few Motorcycle Club will hold a bike show benefiting Carl Barber. The Carl Barber Bike Show Benefit ride will start at 10:00am at Jerry's Bar and Grill. The rest of the events will start at 11:30am.
Carl Barber is a name in Clarksville, TN, that most bikers know. But if you haven't heard of Carl, perhaps you've heard of his shop Bikers, Leather, and More in downtown Clarksville.
Carl is an amazing human being – kind in every way, and always willing to show support for the many benefit rides put on by the clubs of Clarksville, TN.
Well now, Carl is the one in need of support. Suddenly finding himself unable to move on January 6th, Carl was taken to Vanderbilt Medical Center where they diagnosed him with Guillain-Barre syndrome.
Guillain-Barre is an acute polyneuropathy, a disorder affecting the peripheral nervous system. It can cause ascending paralysis, dysfunction of the autonomic nervous system, and affect respiratory muscles. Thankfully,
Carl is doing better every day. He is now at Gateway Rehabilitation Inpatient in Clarksville, TN, where he could be for up to another 2 months.
The event hosts a ride, a show for six different classes of bikes, food, drinks, biker games, and 50/50. This benefit will raise money for Carl's medical expenses.
While Carl himself probably won't make the ride due to his condition, I'm sure he'll have a smile on his face knowing this benefit is taking place.
Jerry's Bar and Grill is located at 605 Cumberland Drive, Clarksville, TN.