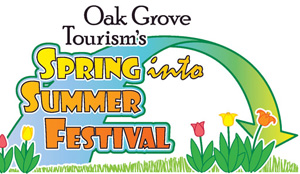 Oak Grove, KY – The Oak Grove Tourism and Convention Commission is extremely proud to announce that we have secured none other than Mr. Thomas Rhett for this year's Spring into Summer Festival Headliner.
His first single, "Something To Do With My Hands," reveals Thomas Rhett as a solid country guy with a distinct urban streak.
Other tracks from his debut show someone who's clever enough to rhyme "Ryman" with "diamond," who mulls chatting with Jesus over beer, who throws AC/DC hard-rock chants and Coolio hip-hop phrasing into songs that are otherwise country.
"I think I've been directed here for a reason," he surmises. "I still don't know why. I don't know if it's to be some big star or if it's to make a difference in somebody's life along the way or to make somebody's Friday night entertaining. It doesn't really matter. It's a journey, and I'm learning something new every step along the way."
For more information the Spring into Summer Festival and Thomas Rhett's free concert on Saturday, May 24th, 2014, call the Tourism office at 270.439.5675!
The 7th Annual Spring into Summer Festival
Presented by Oak Grove Tourism on Saturday, May 24th, 2014 and Sunday, May 25th, 2014 in Oak Grove, KY. The event is free to the public and will include a free carnival, various vendors and different variety shows.
All activities will start at 12:00pm both days. There will be a free concert Saturday night at the Viceroy Performing Arts Center. This event will take place at the War Memorial Walking Trail Park at 101 Walter Garrett Lane, Oak Grove, KY 42262.
About the Spring Into Summer Festival
Oak Grove Tourism hosted the 1st Annual Spring Into Summer Festival in 2008 with the hopes of creating a signature festival that would please the residents and attract visitors. Now, the festival is expected to attract more than 15,000 visitors from both near and far.
This event has grown to include FREE carnival rides, 3 different variety shows, pony rides, train rides and plenty of food and merchandise vendors. Choose the links below to learn more about what the festival has to offer and how you can be a part of it!