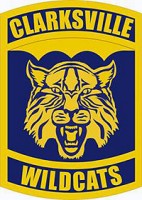 Clarksville, TN – On National Signing day senior football players Eyan Pope and Bruno Reagan signed their commitments to play at the collegiate level in front of friends and family at Clarksville High School.
"It has been a blast just seeing them come in to workouts everyday, wanting to get better, wanting to get stronger," former Clarksville High football head coach Ken Busbee said. "Hopefully this rubs off on some of the others. It has just been a blast watching them come in and compete everyday."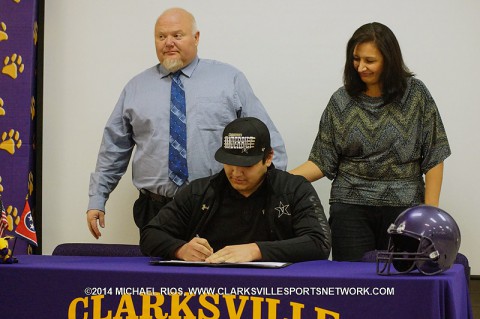 Eyan Pope signed to play with the Kentucky Wesleyan Panthers under head coach Brent Holsclaw in Owensboro Kentucky.
"It has been a lot of hard work on the field and in the classroom," Pope said. "It is difficult having to deal with doing all that and then the pressure of trying to get out there, get your name out and get recruited. In the end the feeling, that it has all been worth while, at the end of the day when you sign that paper it is a good feeling."
Pope thanked his coaches, parents, teammates and friends for helping him get to this opportunity. He said the Panthers had looked at him the longest and he had a good relationship with them.
"It almost seems like a dream, almost seems like it is not real. But it is real, it's happening," Pope said.
Bruno Reagan was equally thankful and excited to be participating at the signing event.
Reagan committed to play with the Vanderbilt Commodores. He is part of a 22 player recruiting class under Vanderbilt's new football head coach Derek Mason.
"It feels really good," Reagan said. "I am very competitive, so when I see other people getting these scholarship offers, I wanted them. I had to go out an produce my senior year. I think I played really well and attracted the attention of some schools. "
Reagan attracted the attention of several schools including Western Kentucky, South Florida and Conneticut.
"When It came down to it choosing Vanderbilt was not a hard decision on my visit. Now, I signed the papers and it is all set to go," Reagan said.
Reagan said he is looking forward to hitting the field and playing at home, but especially on the road against other SEC schools.
Coach Busbee is happy both players got the opportunity to continue playing football at the next level.
"It's a great feeling. I am happy for both of them," Busbee said. "Eyan going to Kentucky Weslyan to continue his career and Bruno making an impact, going to the SEC in to Vanderbilt, I think it is a great opportunity for both of them to continue their playing days."