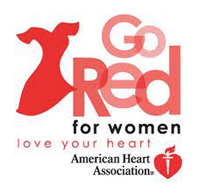 Nashville, TN – If you're "seeing red" this week, it's a good thing! Red is the color of the week and beyond, marking American Heart Month and the American Heart Association's Go Red For Women movement.
National Wear Red Day is this Friday, February 7th, a day when everyone wears red to support women's fight against heart disease, their No. 1 killer. More women die of heart disease than all forms of cancer combined.  In Tennessee, about 9000 women die each year from cardiovascular disease. Yet up to 80% of cardiovascular disease is preventable through healthy living choices we make every day.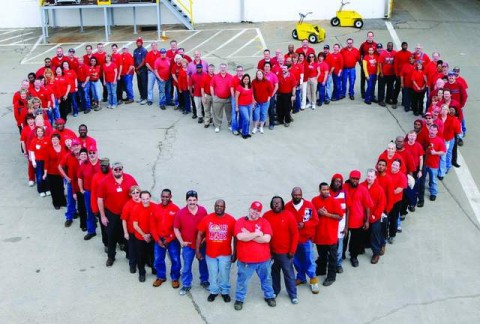 Wear Red Friday
Everyone is encouraged to wear red on Friday, February 7th and share their Red pictures on Facebook, Twitter, Instagram and everywhere with the local Go Red hashtag #NashGoRed.
Free materials can be downloaded at www/GoRedforWomen.org/WearRedDay.
Media personalities, buildings, businesses, and millions of people across America will unite to show their red this week and throughout the month. And Middle Tennessee will be big on that national red map.
How is Middle Tennessee "going red"?
Highlights include:
Nashville Heart Gala – held on February 1st.
Cities and Counties Go Red
Cities proclaiming National Wear Red Day: Brentwood, Clarksville, Nashville, Franklin.
Counties proclaiming National Wear Red Day: Cumberland (NEW), Davidson, Dickson, Hickman, Lincoln, Montgomery, Overton, Perry, Robertson, Stewart, Sumner, Williamson.
Gallery One Goes Red – all February
Artist Toni Swarthout will present "Red," a special art exhibition honoring Go Red For Women, featuring many red paintings done especially for this exhibit. 25% of "Red" sales proceeds will be donated to Go Red, as well as 15% of any other gallery sales in February.
Metro Council Goes Red – Tuesday, February 4th
Council Lady Erica Gilmore will introduce a resolution to proclaim National Wear Red Day in Nashville/Davidson County at the Council meeting that day at 6:30.

Macy's Goes Red – local store activity, Wear Red Sale and Red Pin Sale – February 5th-14th
Local Red touches: Starting later this week, watch for red lighting and red mannequins in the Cool Springs store (first floor entrance to cosmetics, Impulse and Men's departments), as well as special Go Red – Macy's – Saint Thomas Heart signs in the Cool Springs, Green Hills and Rivergate stores.
In every Macy's nationally, from February 5th-9th, customers who wear red or purchase a Red Dress pin for $2.00 at Macy's will receive all-day savings throughout the store.  From February 10th-14th, customers who purchase a Red Dress pin will receive all-day savings.  Macy's will donate 100% of the proceeds from pin sales to Go Red For Women.
Tennessee General Assembly Goes Red – Thursday, February 6th
Rep. Brenda Gilmore will introduce a resolution to proclaim National Wear Red Day in the State of Tennessee during the session that day. Legislators will wear an element of red.
Babies Go Red – Friday, February 7th
On Friday the 7th, newborns in Saint Thomas Midtown Hospital and Saint Thomas Rutherford Hospital will wear custom-made red knit caps in honor of National Wear Red Day, to show support for their moms' heart health. 
Buildings Go Red – Friday, February 7th
Buildings in Middle Tennessee will light up in red starting at sundown, to mark National Wear Red Day. The red lights will stay on all evening. All buildings will be red on February 7th; buildings with extended dates are noted. The confirmed list includes:
Adventure Science Center, 800 Fort Negley Blvd., Nashville
Bohan Advertising, 124 12th Ave S., Nashville NEW
Doubletree by Hilton, 1850 Old Fort Pkwy., Murfreesboro, Feb. 6-7
Frist Center for the Visual Arts, 919 Broadway, Nashville
Hard Rock Café, 100 Broadway, Nashville
LP Field, 1 Titans Way, Nashville, Feb. 3-7, 5-10 p.m. NEW
Nashville Business Journal at Plaza 18, 1800 Church St., Nashville
Nashville Electric Service, 1214 Church St., Nashville
The Parthenon, 2500 West End Ave., Nashville
Rutherford County Courthouse, 20 N. Public Square, Murfreesboro
Saint Thomas Midtown Hospital, 2000 Church St., Nashville NEW DATE FEB. 5-7
Saint Thomas Rutherford Hospital, 1700 Medical Ctr Pkwy., Murfreesboro NEW DATE FEB. 5-7
Saint Thomas West Hospital, 4220 Harding Rd., Nashville NEW DATE FEB. 5-7
Studio Gaven hair salon, 100 International Dr., Franklin
Tennessee State Capitol (cupola), 600 Charlotte Ave., Nashville
The Tennessean, 1100  Broadway, Nashville
TriStar StoneCrest Medical Center, 200 StoneCrest Blvd. #155, Smyrna, Feb. 7-17
Williamson County Historical Courthouse, 305 Public Sq., Franklin
Congenital Heart Defects Week – February 7th-14th NEW
Tennessee Governor Bill Haslam has signed a proclamation for this week in the State of Tennessee, and Nashville Mayor Karl Dean has signed one for Nashville as well, thanks to the efforts of local volunteer Catherine Clinkscales, who is the mom of a child with a CHD.

Nashville Symphony Goes Red – February 7th and 8th
The Nashville Symphony will show support for Go Red For Women during performances on February 7th and 8th. Symphony members will wear an element of red, guests will receive Go Red information in their programs and conductor Giancarlo Guerrero will say a few words.

Gateway Chamber Orchestra Goes Red – February 9th and 10th
For the February 9th Clarksville and February 10th Nashville performances, Go Red information will be placed in guest programs and Orchestra members are encouraged to wear an element of red.
Men Go Red, Tuesday, February 11th
The Go Red For Women Men's Event will be held at Maggiano's (3106 West End Ave, Nashville) at 5:30pm. Special guest speaker will be Kevin Carter, 14-year NFL veteran, Super Bowl Champion and current analyst for ESPN U. 150-200 male community leaders will sample fine wines, write cards to the special women in their lives and hear why women's heart health is important to all.
MTSU Blue Goes Red – Saturday, February 15th
Go Red For Women will be the theme at the MTSU-So. Miss. game, which tips off at 1 p.m. About 5000 fans are expected.
Rutherford Heart Ball – Saturday, February 22nd
The annual formal event in Murfreesboro to support heart health. At Stones River Country Club. More to come.
Churches Go Red
Several area churches are confirmed for Go Red Sundays, where churchgoers will wear red and receive information about heart health:
Olive Branch Missionary Baptist Church in Murfreesboro & Antioch, TN  – done on January 26th
Westwood Baptist Church University Center – February 9th, 11:00am.
Mount Zion Baptist Church, Antioch and Old Hickory – February 23rd – expecting total of 15,000 people in four services
Businesses Go Red
Many local businesses will support Go Red For Women and American Heart Month during February by asking employees to wear red, decorating windows or interior areas in red, sharing heart health information, providing free services or hosting internal fundraisers or public events.
Activa 1240
Amsurg
Ann Hoke & Associates, Keller Williams, Murfreesboro
Avenue Bank, Murfreesboro NEW
Bob Parks Realty
City of Brentwood
Brentwood High School
Brogli, Lane, Weaver & Alexander Animal Hospital NEW
Caterpiller Financial
CBS Outdoor
Clear Channel Radio
Comdata
Dempsey Vantrease & Follis PLLC, Murfreesboro
DSW, Brentwood
Embassy Suites, Murfreesboro
First National Bank of McMinnville NEW
First Tennessee Bank, Murfreesboro
Franklin Fire Dept.
Gateway Medical Center
Hamilton Glass, Murfreesboro NEW
Healthways
The Hermitage, Home of President Andrew Jackson
Hickman County
HomeFront Properties, Murfreesboro
J. Smith Lanier & Co., Murfreesboro, Chattanooga, Knoxville
Kim Brogli Real Estate Group, Murfreesboro
La Ranchera 880
Law Office of Merriel Bullock Neal, Clarksville
The Leaf-Chronicle
Macy's Cool Springs
Macy's Green Hills
Macy's Rivergate
Meharry Medical College
Metro Nashville Public Schools
MidSouth Bank. Murfreesboro
Mimi's Café – nationally
MTSU Health Services, Murfreesboro NEW
Murfreesboro Medical Clinic and SurgiCenter NEW
Nashville Ballet
Nashville Business Journal
Nashville Electric Service
Nashville General Hospital
NHC, Murfreesboro NEW
Nissan
Penny's Closet, Murfreesboro
Perry County
Pinnacle Bank – all of Middle Tennessee and Knoxville
Regions Bank – all of Middle Tennessee NEW
Red Realty, Murfreesboro NEW
Reeves-Sain, Murfreesboro
Rutherford County Chamber of Commerce
Saint Thomas Health
Sinclair Broadcasting
Smith Design Build, Murfreesboro NEW
Stones River Country Club, Murfreesboro NEW
Tennessee Department of Children's Services
Tennessee Department of Health
Tennessee Performing Arts Center
Tennessee State Parks
Tennessee Titans
The Write Impression – Murfreesboro NEW
TriStar Health
UPS
Vanderbilt Heart
Vanessa's Barbershop, McMinnville
VF Imagewear
Williamson Medical Center
Williamson County
Willis
Wirtgen
XMI Holdings
About Go Red For Women®

Go Red For Women® is part of the American Heart Association's solution to help save women's lives. With one out of three women still dying from cardiovascular disease, the association is committed to fighting this No. 1 killer. GoRedForWomen.org connects millions of women of all ages and gives them resources to turn personal choices into lifesaving actions. Go Red For Women is nationally sponsored by Macy's and locally sponsored by Saint Thomas Heart.