APSU Sports Information

Nashville, TN – A second-half surge from host Belmont was too much for Austin Peay State University men's basketball team to overcome, Saturday, at the Curb Event Center. Behind 13 three-point field goals, the Ohio Valley Conference-leading Bruins overcame the Govs, 93-68.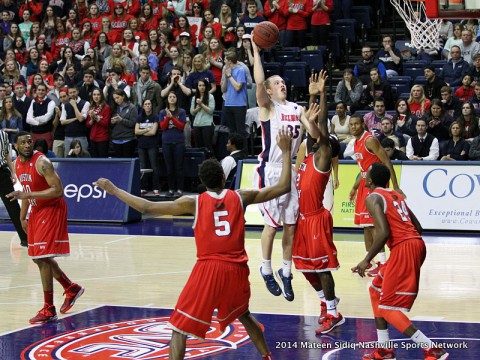 The Govs move to 10-14, 4-6 in the OVC. Belmont maintains its stranglehold on the OVC East lead, moving to 19-8 overall, 10-2 in the conference.
The first half belonged to Belmont thanks to two big runs sparked by J.J. Mann. He scored 10 of Belmont's first 20 points – including two early three-pointers – as the hosts raced out to a 20-8 lead.
The Govs would battle back, however. Sophomore center Chris Horton – who scored 16 points in the first half – showed off his improved shooting in the first half, hitting several jumpers and going 6-for-8 from the charity stripe. He hit two free-throws with 6:44 remaining to pull the Govs within two points at 31-29.
Sensing danger, the Bruins embarked on a 20-7 run of their own over the next four minutes, with Mann responsible for nine of those points. He finished the first half with 22 points to lead all scorers.
However, the Govs would do all the scoring in the half's final two minutes, going on a quick 8-0 run to make it a 53-44 deficit at the intermission.
Despite a Governors 4-0 start to the second half, the final 20 minutes featured more runs from Belmont, but this time the Govs were unable to respond. The Govs shot just 30 percent (9-for-30) in the second half, allowing Belmont to pull ahead comfortably. The Bruins offense didn't help matters, shooting 48.4 percent (15-for-31) in the half and 53.0 percent (35-for-66) for the game.
Horton, who struggled to eight points and seven rebounds in Thursday's win at Tennessee State, led the Govs with 18 points and 12 rebounds for his season's 11th double-double and first since Jan. 18th at Eastern Illinois.
Junior Ed Dyson had 16 points, his third straight in double figures. Seniors Will Triggs (17 points) and Travis Betran (10 points) rounded out a quartet of Govs in double figures.
Mann led all scorers with 28 points on 10-for-17 shooting, including five three-pointers. Four other Bruins – Blake Jenkins (11 points), Reece Chamberlain (13), Craig Bradshaw (10) and Evan Bradds (12) – also finished in double figures.
The Govs return to action and to the Dunn Center with a 7:00pm, Thursday match-up against Eastern Illinois.
Photo Gallery