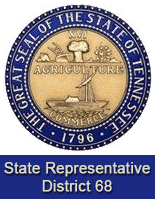 Nashville, TN – Tennessee State Representative Curtis Johnson (R-Clarksville) has filed a House Joint Resolution in the Tennessee General Assembly urging the Tennessee Congressional Delegation to restore cuts to veterans benefits made by Congress in December, 2013.
The Federal proposal cuts benefits to military retirees younger than 62 by reducing their annual cost-of –living increase adjustment (COLA) by one percent annually.
Veterans who have served 20-plus years in the military have made many personal sacrifices by choosing to pursue a career in the military.  Many veterans view these decreases as a breach of faith, and these cuts affect those who have already served their county.
"These men and women entered a military career with certain expectations.  To change the rules after they have served and sacrificed for their country is truly wrong," Representative Johnson said.  "I hope by the Tennessee General Assembly passing this resolution that our Congressional Delegation will take note and lead the effort to reverse their decision," he said
House Joint Resolution 646 is currently in the House State Government Committee and will be on the calendar on February 18th.
Senator Mark Green (R-Clarksville) will be guiding the resolution in the State Senate.