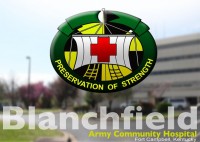 Fort Campbell, KY – With the help of volunteers, Blanchfield Army Community Hospital offered patients free chair massages, kid's face painting as well as weight management and healthy eating classes the first week of February in honor of National Patient Recognition Month.
Eight local massage students, shadowed by their instructor, volunteered to offer their new massage therapy skills to Fort Campbell Soldiers, Retirees and their Families February 6th.
After receiving a massage, Heather Smith said that it was wonderful and she felt relaxed. Smith and her husband had just moved into the Fort Campbell area when she heard about the offering of free wellness chair massages.
Smith stated that seeing and participating in the patient recognition month offerings definitely made a great first impression of the hospital.
BACH commander Col. George N. Appenzeller thanked patients before they sat down in the massage chairs for a relaxing 10-minute massage.
"Patient Recognition Month affords us opportunities to communicate Army Medicine's transition from a healthcare system to a system for health and for our providers and staff to honor the patients entrusted to our care," said Appenzeller.
Patient Recognition Month activities not only promoted stress relief, but they also helped educate patients on the importance of living the Army Surgeon General's Performance Triad by getting quality sleep, engaging in activity and improving nutrition.
The day after the free massages, the Patient and Family Medical Resource Center at BACH opened its doors again February 7th for patients to learn about weight management and healthy eating habits from hospital dietician Capt. Jeffery Heileson.
Heileson's colorful presentation had patients engaged and laughing. Heileson shared stories about his grandmother's greens and the unhealthy way she prepared them. Responsible portion size, cutting out sugary drinks and daily exercise were all incorporated into his presentation.
BACH patients Lisa Moore and Joseph Lewis were pleased they chose to attend the nutritional class.
"I chose to come because I'm trying to get healthy. I have a lot of medical issues but I'm trying to eat right. I got a lot of great information today so I'm elated that I came," said Moore. Although Lewis initially attended to support Moore, he said he was glad he came and learned valuable information as well.
Heileson took questions during the class from patients, helping clear up healthy eating myths. One of the class attendees asked Heileson if a smoothie is a healthy snack. Heileson explained that people should avoid fruit smoothies unless they are running marathons; however he did state that vegetable smoothies were excellent.
Moore was as surprised as other attendees at the dietician's recommendation not to prepare fruit smoothies. Moore said that luckily she already adds a lot of greens to her smoothies. "I add kale, carrots, spinach and then I'll add an apple for the taste of it," Moore said.
Moore was especially pleased that her doctor Dr. Carolynn Warner sent her an email through Relay Health, the Army's Secure Medical Messaging System, informing her about the weight management and healthy eating class. "My doctor sent me an email, Dr. Warner, yes I love her," said Moore.
Another class participant, Vanessa Vasquez, brought two of her small children with her.
"I'm really big on that in my household as far as managing weight, especially having four children. I basically brought my weight down on my own doing research, watching my weight and trying to eat healthy," Vasquez said.
Vasquez attended the class so she could build more on those skills and pass the information on to her family. In addition, Vasquez, who volunteers at BACH, was pleased to see fellow volunteer Cenema Judd provide free face painting to the children visiting the hospital that day.
Both of Vasquez's youngest children left the hospital with different faces than when they arrived. Vasquez left that day with a princess daughter and Spiderman son.
Face artist Judd said she was happy to join in the fun of Patient Recognition Month by offering her artistic talent at no cost to the patients.
"It's always fun, I enjoy it.  Normally I don't paint in February but it's for a good cause. I'm a military spouse and family member and I know how hard it is to get people to show up for wellness and nutrition activities so maybe it helped bring in a person or two."