Clarksville, TN – On Friday, February 14th, 2014, Clarksville Police Chief Al Ansley presented Sgt Javier Matiz and Sgt David Galbraith with Police Chief's Coins for their exemplary work in the apprehension of the suspects of an armed robbery.
On January 30th, 2013, there was an armed robbery in district 3 in which one of the subjects pistol whipped the victim. After the robbery the victim was able to call 911 and a description of the suspects was eventually put out.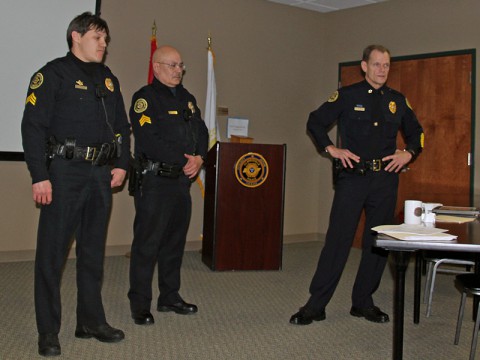 Sergeant Matiz remembered observing a couple who met the description on Riverside Drive earlier in the night.
This information coupled with a cab dropping the suspects off at the Greyhound Bus station led Sergeants Matiz and Galbraith to Kelly's big Burger in search of the suspects.
Once at Kelly's Big Burger, Sergeant Matiz identified the suspects and a subsequent struggle took place, between suspect, Willie Hardy Jr, and Sergeants Matiz and Galbraith outside of the restaurant. During the struggle a loaded 9mm handgun fell from Mr. Hardy's waistband unbeknownst to Sergeants Matiz and Galbraith.
During the struggle Officer Volkman arrived on scene and was able to locate and secure the handgun that fell from Mr. Hardy's waistband.  She subsequently took suspect, Danielle Vineyard, into custody while the struggle between Mr. Hardy and Sergeants Matiz and Galbraith continued.
Sergeant Matiz, Sergeant Galbraith, and Officer Volkman's action coupled with their attention to detail led to the apprehension of two violent offenders, recovered property that was taken during a robbery, and recovered a loaded handgun that was used during the robbery. Their actions bring credit upon themselves, District 2, and the Clarksville Police Department.