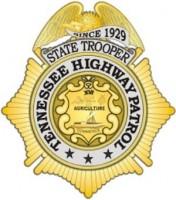 Nashville, TN – Tennessee State Troopers apprehended two armed robbery suspects Saturday evening at the Petro Truck Stop in Cheatham County.
Shortly before the arrests, at approximately 5:00pm on Sunday, February 16th, witnesses at a Shell gas station in Humphreys County off Interstate 40 at Exit 143 in Hurricane Mills reported a white male and white female armed with a handgun and knife robbed the business.
The suspects reportedly traveled eastbound on I-40 toward Nashville.
Witnesses described the getaway vehicle and tag number to the Humphreys County Sheriff's Department. The information was passed on to the Tennessee Highway Patrol (THP) Nashville District Dispatch Office.
THP dispatchers then issued a BOLO ("be on the look out") for the armed robbery suspects and their vehicle.
At approximately 5:24pm Tennessee State Trooper Keith Garrett observed the vehicle traveling on I-40 in the Cheatham County area. Trooper Garrett ran a check of the vehicle's tag which revealed that it was stolen out of Haywood County, NC. Trooper Garrett followed the suspects at a safe distance, as to not alert them of his presence.
The suspects then exited I-40 at the 188 mile marker in the Kingston Springs area and pulled into the Petro Truck Stop where they went inside to eat. Trooper Garrett remained outside and out of view as he awaited the arrival of additional troopers. Trooper Garrett observed the couples' actions and kept fellow troopers advised.
Troopers were dispatched from surrounding counties to assist. As they arrived, they quickly alerted management of the Petro Truck Stop of the situation. The customers were then very discreetly advised to systematically exit the business.
During this time the suspects separated, going in different directions. The female suspect attempted to exit the front door of the Petro, at which time she was taken into custody without incident by the troopers who were staged to make a tactical entry into the business.
Troopers then followed the male suspect as he went into the men's restroom where he was also taken into custody without incident.
The male suspect was later identified as Luke James McFalls, 27, of Canton, NC. The female suspect was identified as Brittany Nicole Smith, 24, from Clyde, NC.
Detectives with the Humphreys County Sheriff's Department, along with agents from the Tennessee Highway Patrol's Criminal Investigation Division, arrived at scene to assist with the investigation.
The Humphreys County Sheriff's Department charged both suspects with armed robbery. The Tennessee Highway Patrol charged Mr. McFalls with the felony theft for the stolen vehicle, along with additional misdemeanor violations.
About the Tennessee Department of Safety and Homeland Security
The Tennessee Department of Safety and Homeland Security's (www.TN.Gov/safety) mission is to ensure that our state is a safe, secure place in which to live, work and travel; enforce the law with integrity; and provide customer-focused services professionally and efficiently.