Police Team Work, Detailed Information from Witnesses, and Store Video Helped to Confirm Robbery Culprits

Clarksville, TN – On Wednesday, February 12th, 2014 at 6:52pm, the Clarksville Police Department responded to a Robbery at Rony's Smoke Shop on North Second Street.
Police received a silent alarm at the shop in reference to a possible robbery in progress. Officer J. Smith made contact with the store owner (victim 1) and the other victim (victim 2).
They both advised that they had just been held at gun point with a shotgun. Victim 1 stated that the suspect demanded money from the cash register and victim 2 stated that he had $15.00 taken from him.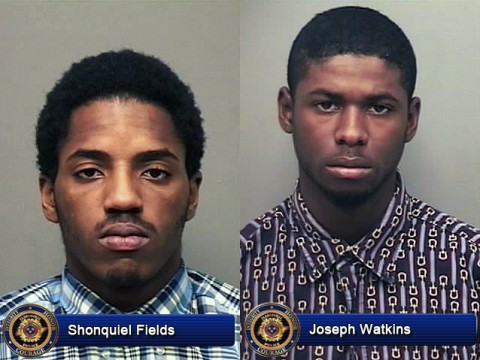 They described the male to be black, ranging from 5'9″ to 5'11" tall, wearing a mask, dark clothing, and stated that they observed some facial hair on the chin. A witness (witness 1) stated that once the suspect left, he ran after him. The suspect ended up stealing over $400.00 and an undetermined amount of Newport Cigarettes.
During the search for the suspect, Officer Walden checked out with another witness (witness 2) who stated that, while she was driving on Jefferson Street, she observed a tall black man behind Kelly's Big Burger changing pants. She stated that he kept the black hoodie and saw him running with the backpack.
Officer Edwards observed a black male, suspect Shonquiel Fields, with red and white striped pants with a black hoodie and a backpack standing next to the Greyhound Bus Station. Shortly after, Officer Edwards observed that same subject at Kelly's Big Burger.
He and Officer Walden checked out with Fields inside of Kelly's Big Burger. A third witness (witness 3), who was working inside of Kelly's Big Burger at the time, stated that she saw the male, identified as the suspect, walk inside of Kelly's Big Burger with a black backpack. He went into the bathroom with the backpack and came out without the backpack.
Officer Walden did conduct a search of the men's bathroom and found a black backpack filled with packs of Newport cigarettes. Officer Jones and Police Service Dog (PSD) Koda conducted a track and located a sawed off shotgun on 111 Womack Street. Officers arrested Fields.
Detective Bramel was called and took over the case. Fields was taken to CI, interviewed, and then transported to booking at Montgomery County Jail. He was charged with Robbery and Using a Firearm in the commission of a felony. Also, Joseph Watkins, who posed as Fields' lookout, was transported to Montgomery County Jail. Watkins was charged with Criminal Responsibility for Conduct of Another.
Police team work, detailed information from witnesses, and the store video helped to confirm the robbery culprits. Another job well done by everyone included.
Rony's Smoke Shop Robbery Video