Clarksville, TN – On April 22nd, 2013 at 3:00pm, Clarksville Police Detective DeMone A. Chestnut responded to a Child Abuse/Neglect at King Road.
Detective Chestnut responded to a Department of Children Services (DCS) referral in reference to two abused children living in a home on King Road; one child was said to have a broken collar bone and another a black eye. These injuries were said to have been caused by the mother's live-in boyfriend.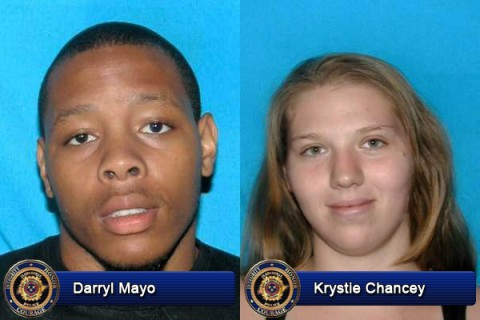 The mother of the children, Krystie Chancey, was interviewed and information was obtained about one of her children being seen at Gateway Medical Center for a broken collar bone.
The Affiant obtained medical documents provided by Ms Chancey showing a juvenile victim (victim 1/ 4 year old male) being treated for a broken collar bone on March 26th 2013.
Ms Chancey failed to disclose the truth on how the injury was caused to medical professionals. Ms Chancey failed to report the abuse to law enforcement and or DCS, therefore placed her minor children in a continued endangered environment.
Sometime after March 27th, 2013 another child (victim 2/ 1 year old male) was also abused by the same live-in boyfriend Darryl Mayo, whom had abused victim 1 the month before. Victim 2 had a significant bruise to his eye leaving what would be considered a "Black Eye".
All information was corroborated by interviewing Mr Mayo who admitted to causing the broken collar bone to victim 1 while giving him a spanking. Mr Mayo stated that he and Ms Chancey made up a story together on how the children were injured to protect themselves from prosecution.
Mr Mayo also admitted to back handing victim 2 causing a significant bruise to his eye. Ms Chancey was advised of her Miranda Rights and further interviewed.
Ms Chancey advised that the injuries to victim 1 happened on a playground, and victim 2 was assaulted by one or more of his siblings, all of which are under the age of four years old.
Outcome of the Case:
Darryl Mayo received 9 1/2 years in prison as a Range 1 offender at 45% (out of range) sentence.
Krystie Chancey received a 10 year community corrections sentence.