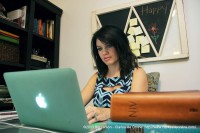 Clarksville, TN – When I was a social worker years ago, I was very eager to help people. I would see them struggling to pay bills, or to have gas money to get around. I hated watching people struggle to make ends meet. It kept me up some nights.
My primary role was to help them (usually young single mothers) with parenting skills and to teach them prenatal, infant and child development. Another part of my job was to help them with their budgeting.
This was a real and great opportunity to potentially affect positive change in someone's life.  I took this assignment very seriously.
Unfortunately some (not all) of my clients spent their money on things that I would consider to be very wasteful: cigarettes, over-priced electronics, & even too many unsuitable (not age appropriate) toys for their children.
If I could just point out the ways they wasted money every month, imagine how helpful I could be to them!
There are two fundamental flaws with this way of thinking:
First, I don't get to set their values. Secondly, if I try, I will no longer be a welcome visitor or voice in their home. I was a guest. I had to earn the right to share my values with them.
It's important to note that I worked for an agency that was about helping the kids. The parents had the right to choose if they would participate in it. Some of them really wanted our help. Others were just lonely and wanted a friend. Some of them wanted to see what they could get from us. Everyone had their own motivation for allowing us into their lives.
As Christians we want everyone to experience the level of joy, peace and freedom we (typically) enjoy from our relationship with God. We can quickly see what others (non-Christians) are spending their money, time and energy on that could be better spent elsewhere. We want to walk into their home, sit on their sofa and say, "Hey, if you just stop caring about ______________ and focus on God, everything will be better." While this may be true at a very basic level, we must ask ourselves, "Do I have the right to tell them how to live or feel?" and "Will I still be welcome here if I do?"
As a social worker, it took months before I could really offer them value feedback. I had to show up every week, I had to keep my promises, and I had to help with real life problems like diaper shortages and rides to the WIC clinic. I couldn't just say I cared; I had to prove it. I couldn't offer value statements first and then hope to have a chance to prove that I cared about them as a person later.
I had to show that they were more to me than a goal to meet or a quota to fill. When people have been let down, you have to prove that you are going to stick around before you to tell them how to live. Otherwise, you are just another joker with a "padfolio."
It may have been easier to walk in and say, "Stop spending your money on stuff that I think is stupid, and you will have money for your water bill," but that would have been my last visit. Then I would have missed helping their little one grow up in a healthy way.
I would've missed the opportunity to help them be better, calmer parents. I would've missed watching a young mom getting her GED, driver's license or college acceptance letter. I would have missed the chance at a real relationship, and it would have been my fault for putting pride before love.
Live in harmony with one another. Do not be haughty, but associate with the lowly. Never be wise in your own sight. (Romans 12:16)
As Christians, we have the chance to share the powerful love of Christ with others. As Christians, we have the responsibility to do it lovingly, humbly, and with permission. God always gives us a choice. Shouldn't we do the same? Or are we going to be just another joker with a Bible?