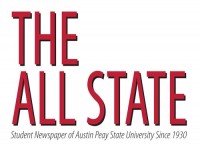 Clarksville, TN – The All State, Austin Peay State University's student newspaper, was ranked No. 4 in the South on Feb. 21 at the annual Southeast Journalism Conference, held Feb. 20-22 at the University of Louisiana-Lafayette.
The newspaper staff also earned individual awards in the annual Best of the South competition. Christy Walker, former cartoonist for The All State, was ranked No. 1 in the South for her editorial cartoons.
Other students earning top-10 honors include:
David Hoernlen, No. 3 in the South, News/Graphic Illustration.
Conor Scruton, No. 9 in the South, Page Layout.
Josh Vaughn, No. 9 in the South, News Photography.
The All State competes annually with up to 44 other colleges and universities across seven states in the Southeast. In the 2013 competition, more than 440 total entries were submitted in 30 individual and institutional categories covering print, broadcast and advertising.
"The performance of The All State staff is nothing short of remarkable," said Jake Lowary, staff adviser of The All State.
"These students work extremely hard to produce an informative and engaging product for the campus community and beyond, and for them to earn this incredible honor is just fantastic," he said.
The All State received the same ranking in 2011. Student newspapers at Georgia State, Mississippi State and the University of Alabama were ranked Nos. 1-3, respectively.
?"I couldn't be more proud of all that was accomplished at SEJC," said Jenelle Grewell, editor-in-chief. "To see our hard work being recognized is amazing, and I am so happy. Everyone on staff works so hard every week to put out a paper and bring news to our community and to see reward for our efforts is truly wonderful. Everyone who won individual awards is such a master at their craft, and I am so proud of them.?"
The All State publishes each Wednesday in print, which is distributed on APSU's main campus and at APSU's satellite campus at Fort Campbell, Ky. It also publishes regularly online at www.theallstate.org.
Readers can also connect with The All State on Facebook and Twitter.