Clarksville, TN – The Clarksville community gathered together at Northeast High School on Saturday to honor Ms. Debbie Wilson for her 20 years of service bringing the arts to students in the Clarksville-Montgomery County School System.
"It's an amazing thing when you realize that you done something for 20 years," said Debbie Wilson shortly before the concert was to begin. "I am humbled that my students and alumni chose to honor me this evening."
I asked her what she remembers most from her 20 years of service, and she responded, "Looking back I see the children I got as young freshman, and how honored I was to be able to watch as they grew into beautiful and mature young people."
Kim Coker told Clarksville online about one of those young people before the show, "My son Jonathan Bunton, is a senior; and he is actually in this program," she said. "He is one of the students who will be playing the guitar. He's really enjoyed taking part in the fine arts program here at Northeast High School, and having the opportunity to exercise his creative side. It's made him more confident and able to speak in front of a crowd. He has also enjoyed taking part in the drama program taking a role in several productions."
Coker continued, "One of the things that's really neat about Ms. Wilson, is how passionate she is about the arts. My son and his not as thrilled moments is like, 'All she cares about is choir,' but that's a good thing because it's her passion, and she loves it so much, that she puts everything into it! And the things that her students have been involved in are amazing! There's all these times that they are out in the community and the going on different trips and stuff like that; things that they wouldn't have had the opportunity to do otherwise."
Patrick Digby, assistant principal at Northeast High School spoke to Clarksville online about Ms. Wilson and her dedication to the Arts. "Debbie Wilson really works hard with her students. When you look at the performing arts, it's amazing sometimes people forget about how important they are. It gives these students something to belong to, and it also helps them in their academic careers. .Ms. Wilson really stays on top of her choir members to ensure that their academic performance remains their first priority."
He continued, "They know Ms. Wilson is going to be checking their grades, and they like being in the spotlight; so it helps them and gives them something to belong to ,and makes them feel good about being a part of our school! It takes a lot of work to look this good, and a lot of time and practice is involved. But we know that the finished product will be something that we can all be proud of."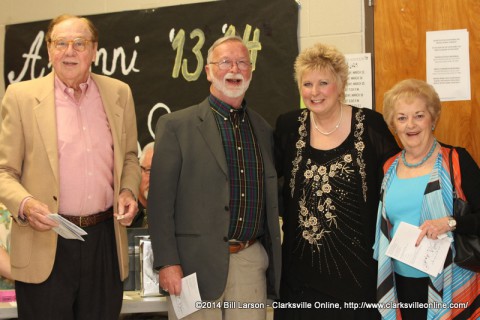 As part of the Northeast High School Choral Departments Spring Choral Concert Debbie Wilson's alumni were invited to join together with current students to sing the songs of past concerts. "We have our regular choir concert that we will be doing bits and pieces of, then the alumni are going to joining in as we perform their favorite songs." The alumni had been rehearsing for the last three months, with organizational meetings going on for the last year. Some of the former students were selected for solo performances held throughout the night.
The show featured choral music along with songs from the 50s 60s and 70s, as well as popular music selections from Les Misérables, Phantom of the Opera, Grease, Motown and the Mambo, and A Chorus Line.
The Northeast High School Choir, the Exit One Show Choir, and the Junior Varsity Exit One Show Choir were all part of this amazing musical extravaganza.
The performance was directed by Debbie Wilson and choreographed by Amanda Batts and Lana Cornwell. Arthur Chung and Elizabeth Kent served as accompanist.
Photo Gallery