APSU Sports Information

Clarksville, TN – The most decorated soccer players in Austin Peay State University history will take their talents to the next level.
Tatiana and Natalia Ariza have signed contracts with the Houston Aces of the Women's Premier Soccer League, the 2013 runners-up in the 11-conference league. With classes still in session, the duo will join the team on weekends when the preseason commences at March's end before joining the squad full-time upon graduation.
For the twins, the contracts represent the fulfillment of a life-long goal: playing professional soccer on the same team.
"We've been working toward this opportunity ever since we got here," said Natalia. "We're very happy and excited – we get to continue to do what we love at a high level."
The duo left their mark on Austin Peay in a big way. Tatiana was a four-time All-OVC first-team selection who earned 2012 OVC Offensive Player of the Year honors, a first for Austin Peay's program.
Natalia also was a four-time All-OVC choice, and the pair represented Austin Peay at the international level with their native Colombia in the 2012 London Olympics. Together, they led Austin Peay to a 48-27-5 record and the program's first two OVC Tournament Championship match appearances during their four years in Clarksville.
Now, they turn their sights to the next challenge.
"With every team, you have to work your way into a starting role," said Tatiana. "We have to work hard for everything at such a high level."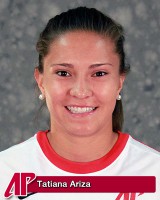 "It's helpful to have my sister with me," said Natalia. "We support each other on and off the field and have for years."
The twins remain in Clarksville until May, when both will graduate from Austin Peay – both major in business, with Tatiana concentrating on international management and Natalia in business marketing. Then the next step in their soccer careers will commence.
"As soon as we graduate, we'll start full-time," said Tatiana. "Right now we're training on our own until we graduate. We'll play some friendlies (in Texas) during the weekend and stay in shape here."