APSU Sports Information

Oxford, MS – A sweep of the relay events and a trio of school records made Austin Peay State University women's track and field outdoor opener at the Ole Miss Open a success, Saturday.
The Lady Govs picked up right where they left off from their third-place finish at the OVC Indoor Championships three weeks ago. Despite the break, Austin Peay showed no signs of slowing down after the program's best indoor finish under the direction of head coach Doug Molnar.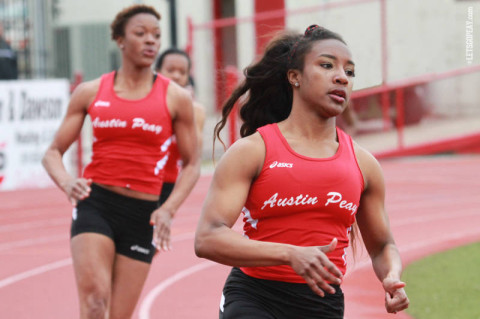 "Another very solid performance," Molnar said. "They picked up right where they left off (from indoor season). It wasn't just one area of success; we were good across the board today."
The 4x100m relay team didn't just win the event by nearly a second – the quartet of sophomores Breigh Jones and Kymmalett Ross and juniors Erika Adams and Maikea Davis broke a 14-year old school record by more than a second with a 45.78 run.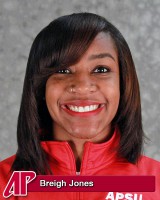 That wasn't all the damage done by the Austin Peay relay teams. Ross, Davis, Jones and freshman Terri Morris also came out as the victors in the 4x400m relay with 3:47.32 mark, which would have been the second-fastest of the year in 2013.
"Anytime you can go into an SEC school's home meet and sweep the relays, you've had a good day," Molnar said. "We crushed the school record in the 4x100m; as our handoffs get better we'll be even faster."
Jones picked up where she ended last outdoor season; the Memphis Tennessee native won the 400m event with a 55.08 mark, picking up the win by nearly seven-tenths of a second. Morris was close behind with a 56.76 mark, finishing fourth overall.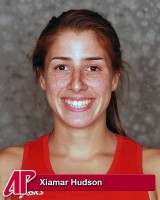 Xiamar Hudson was solid in her final outdoor season-opener. The senior was runner-up in the 1500m run (4:37.64) and placed third in the 800m (2:18.05) event.
Freshman Kaylnn Pitts earned Austin Peay's lone field victory on the day. In her first collegiate outdoor meet, the silver medalist in the OVC Indoor triple jump won that same event with a 12.21m (40' 0.75") leap for her second career win as a Lady Gov.
Austin Peay young jumps group continued to impress Saturday. Freshmen Chancis Jones (third, 5.63m) and Amia Butler (fifth, 5.62m) both posted top-five finishes in the long jump, while fellow frosh Briana Kelly was runner-up in the high jump with a 1.63m (5' 5") leap.
Two school records aside from the 4x100m relay mark fell on Saturday. Davis was runner-up in the 200m dash with a 24.27 mark, erasing Roni Hopkins' 2002 mark by two-tenths of a second.
Senior Kendra Kirksey broke her own record in the 3000m steeplechase. She finished fourth with an 11:28.63 mark, bettering her 2012 mark by seven seconds.
In other distance news, senior Kim Dominguez was runner-up in the 5000m run with an 18:52.33 run.
Junior Natalie Olberding posted a third-place finish in the 400m hurdles. The Iowan finished with a 1:03.48 mark.
Austin Peay returns to outdoor action at next weekend's Vanderbilt Black and Gold in Nashville Tennessee.