Montgomery County, TN – The first class of 2014 completed the Clarksville-Montgomery County Green Certification Program (CMCGCP) workshops. The group began in January and concluded a series of three workshops that lasted approximately three hours each in March.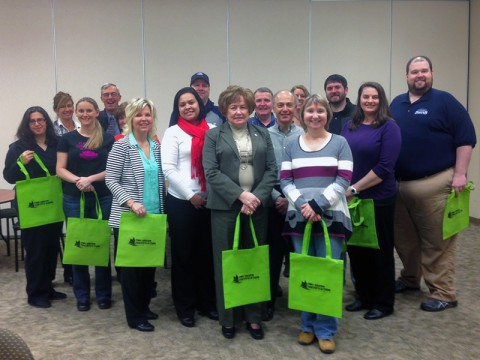 The workshop group included representation from the following businesses: Appleton Harley-Davidson; Clarksville Academy; Gary Matthews Motors; MidTenn Alarms; My Place Realty; Radish Eye Care; Rainbow Kids Clinic; Sango Florist; Tree of Life and West Creek Elementary School.
Montgomery County Mayor Carolyn Bowers visit the workshop members to express gratitude for their work and interest in making Clarksville and Montgomery County a more sustainable community.
Local Green Certification workshops were developed by the CMCGCP Work Committee, a group of environmental professionals who volunteer their time and expertise to support the community in this sustainability endeavor.
The work committee members also serve as presenters in the workshops and include representatives from Bridgestone Metalpha USA, and Trane – representative of the companies that lead the CMCGCP along with Hendrickson, Page & Tuttle, Smithfield Enterprises, City of Clarksville and Montgomery County Government. Leaders from these businesses are the members of the Steering Committee who provide guidance for the program.
Businesses learn how they can save money on their bottom line expenses, share resources for disposal of waste materials and develop environmental plans. Organizations that participate in the workshops also learn about the environmental issues that affect Clarksville and Montgomery County from local professionals who work in those areas.
These professionals represent Bi-County Solid Waste Management, Clarksville Department of Electricity, Clarksville Gas & Water, the Metropolitan Planning Organization and Montgomery County Stormwater Management.
Please contact Michelle Newell for more information at manewell@mcgtn.net  or call 931.217.3332.