Written by Sgt. Jon Heinrich
1st Brigade Combat Team PAO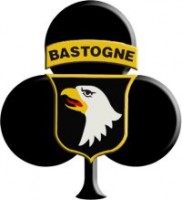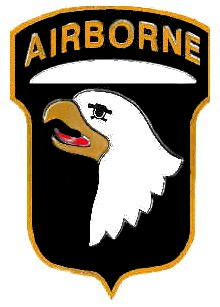 Fort Campbell, KY – The importance of recognizing the transition from "just one of the guys or gals" to a noncommissioned officer should be shared among the superiors, peers and soldiers of the newly promoted. (Army Field Manual 7-22.7, Appendix F)
Sixteen NCOs from 2nd Battalion, 320th Field Artillery Regiment, 1st Brigade Combat Team, 101st Airborne Division, completed this transition during their battalion's NCO Induction Ceremony March 20th at the Morale, Welfare and Readiness' Dale Waryrnen Recreation Center on Fort Campbell.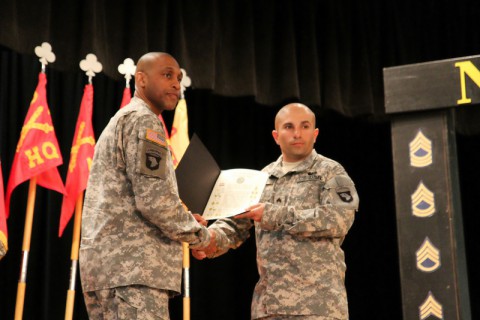 "In order to keep tradition with U.S. Army, it is very imperative that young soldiers and noncommissioned officers understand tradition," said Command Sgt. Maj. Alexis Ayala, the command sergeant major of 2nd Bn., 320th FAR. "The tradition goes way back. It's the rite of passage when you become a noncommissioned officer."
The tradition of commemorating the passing of a soldier to an NCO can be traced to the Army of Frederick the Great, the King of Prussia in the mid-18th century, according to FM 7-22.7, Appendix F.
"I think it was pretty good," said Sgt. Michael Nunes, a gunner with Battery B, 2nd Bn., 320th FAR and one of the inductees. "I've never actually been formally introduced into the NCO Corps so it was actually kind of inspiring to actually have a command that views the NCO Corps that highly."
Nunes has been in the Army for 12 years and says he plans to stay in for another eight until he can retire.
The ceremony began with the narrator introducing Ayala as the host of the ceremony and Command Sgt. Maj. Brian Veney, the command sergeant major for 426th Brigade Support Battalion, 1st BCT, as the ceremony's guest speaker.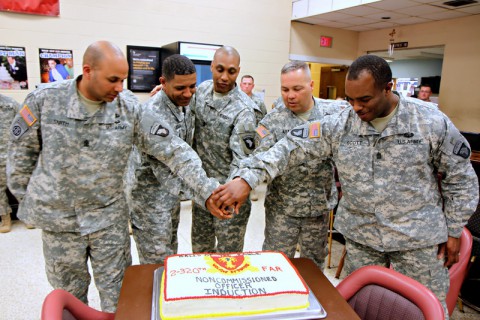 Three NCOs from the battalion then came up to a table and laid items in keeping with tradition of the soldier having to stand four watches before he could be fully recognized as an NCO.
Three platoon sergeants from the battalion then each went on stage one-by-one, each reciting a paragraph from the Creed of the Noncommissioned Officer, followed by the lighting of a candle by a first sergeant after each paragraph was recited.
Veney then gave a speech about the duties and responsibilities of being an NCO and instructions to the inductees for fulfilling that role.
After the inductees were given their charge, they went up on stage one-by-one where they walked under an archway and were presented their charge by Veney, who, along with Ayala, fully welcomed them into the NCO Corps.
"I just thought it was pretty well put together," said Nunes. "Command Sgt. Maj. Ayala did a very good job in making sure we had a good formal introduction into the NCO Corps."
When the ceremony was over, everyone moved into a different room in D.W. Rec. where the command sergeants major and first sergeants cut the cake and served everyone a slice.
"I think every noncommissioned officer in every battalion should have an NCO Induction," said Ayala. "It will keep the rite of passage and it will show our young NCOs how you transfer from being a soldier to now being a leader."