Clarksville, TN – At 92, Toots Thielemans is considered the world's greatest jazz harmonica musician, having played with luminaries such as Charlie Parker and Miles Davis.
In 2012, Thielemans made a guest appearance on 37-year-old Gregoire Maret's self-titled debut solo album, and most music critics saw this as a passing of the baton to a new master of the jazz harmonica.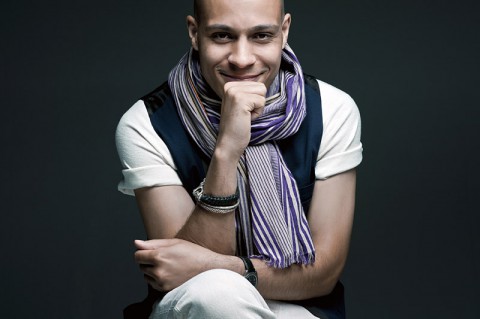 Maret, a Grammy-winning musician, is now one of the most sought after harmonica players in the world, and on April 5th, his Gregoire Maret Quartet will headline the 53rd Annual Mid-South Jazz Festival at Austin Peay State University.
National Public Radio's Josh Jackson applauded Maret's debut CD, but he strongly suggested that jazz lovers try to catch him live. "This performance demonstrates much about Gregorie Maret, but you can't see the sheer energy exerted as he places the harmonica in his mouth," Jackson said. "His whole body oscillates while he solos, all while balancing on his tiptoes."
The festival, sponsored by the APSU Center of Excellence for the Creative Arts and the Clarksville Community Concert Association, actually begins on Thursday, April 3rd, with a 7:30pm performance by APSU's Jazz Combo. Directed by David Steinquest, APSU professor of music and festival director, the program will include music by some of the giants of jazz harmonica.
At 7:30pm on Friday, April 4th, the Cumberland Jazz Project, under the direction of Mike Ritter, and the APSU Jazz Collegians, led by Richard Steffen, will perform a variety of big band music.
On Saturday afternoon, local middle and high school bands will perform at the University, followed by a 4:00pm guest artist clinic by Maret. Then, at 7:30pm, his quartet will take the stage. Tickets are $25.00 for adults and $5.00 for students. APSU students get in free with an I.D.
Maret has played with an incredible number of famous musicians, including George Benson, Richard Bona, Terry Lyne Carrington, Youssn'Dour, Kurt Elling, Elton John, Me' Shell Ndegeocello, David Sanborn, Jimmy Scott, Mike Stern, Pete Seeger, Sting, Jacky Terrasson and Cassandra Wilson.
In 2005, he toured with the Pat Metheny Group, receiving a Grammy for Best Contemporary Jazz Album. He also won the Jazz Journalists Association "Player of the Year Award." After his Grammy win, Maret embarked on a two-year tour with the world-class bassist Marcus Miller, and he subsequently joined pianist Herbie Hancock's band.
For more information about the 53rd Mid-South Jazz Festival, contact the APSU Department of Music at 931.221.7818.