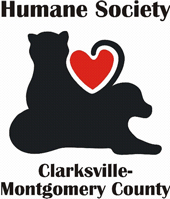 Clarksville, TN – On Friday, April 11th the Clarksville Montgomery County Humane Society is holding their Spay-ghetti Dinner at First Presbyterian Church. The dinner starts at 5:00pm with the last seating at 7:00pm.
Tickets are only $10.00 for Adults and $5.00 for Kids 10 and under. Dinner includes spaghetti, salad, bread, drink and dessert provided by George the Cake Guy. Drive-Thru Available pick up is available.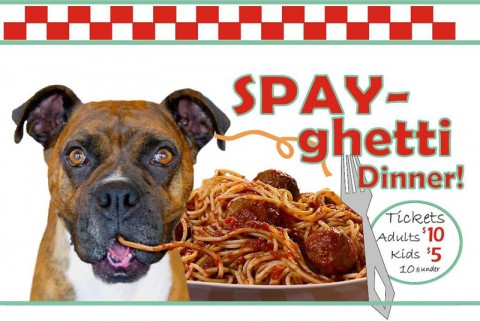 First Presbyterian Church is located at 213 Main street, Clarksville.
Your support will help the Humane Society get one step closer to opening their Spay-Neuter facility. Clarksville's first ever low cost high volume spay-neuter clinic.
Get your tickets by credit card over the phone at 931.648.8042, or visit our office at 940 Tennessee Avenue (blue building behind Arby's on Riverside Drive). Office hours are Monday- Tuesday- Friday-Saturday from 9:00am-2:00pm or Wednesday-Thursday from 4:30pm-7:30pm.
Tickets will be available at the event (BUT we are depending on presold tickets & RSVPs to ensure we have enough food and drinks in advance, so PLEASE help us out by purchasing your tickets as soon as possible!)
Volunteers Needed
We are recruiting several volunteers to help at this event. Shifts are as follows: 4:00pm (includes setup) to 6:00pm or 6:00pm to 8:00pm (includes cleanup) or BOTH! Flexibility is appreciated for ease of scheduling!
Volunteer tasks include:
Tickets table (2 volunteers needed)
Drinks table (2-3 needed)
Desserts table (1 volunteer to help out George the Cake Guy)
Carry-out/Drive-Thru Area (2 needed)
Food runners to carry food from kitchen to drive-thru (2 needed)
Bus tables to keep tables cleaned off, set out clean placemats, etc. (4-6 volunteers needed)
Please contact us with all time frames you are available to help and include a best contact phone number so our event coordinator can reach you to confirm.
Donations Needed
If you can't attend or volunteer, you can still be part of the event's success by donating any of the following items:
canned sodas
bottled water
napkins
Sam's Club gift cards
Donate to help with supplies
Items can be dropped off anytime during office hours: Mon/Tues/Fri/Sat between 9:00am-2:00pm or Wed/Thurs between 4:30pm-7:30pm. We are located at 940 Tennessee Avenue (blue building behind Arby's on Riverside Drive).