Austin Peay Sports Information

Clarksville, TN – The doubles finally broke through with a win and Austin Peay State University men's tennis team rolled to a 5-2 win against SIU Edwardsville, Sunday, in Ohio Valley Conference action.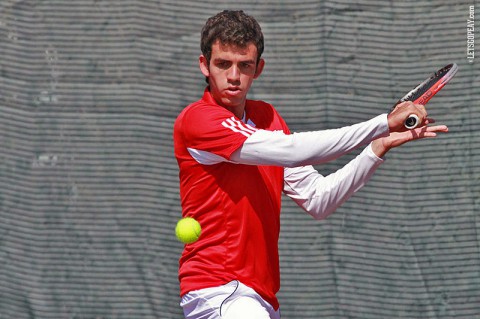 The win moves the 9-5 Governors into a tie with Jacksonville State at 4-2 in OVC play, with Austin Peay holding the tiebreaker thanks to a 5-2 win back on March 15th. SIU Edwardsville falls to 9-8 (3-3 OVC) with the loss.
"Today and yesterday were huge for us," said head coach Ross Brown. "We've got some players that have always been consistent for us and some that have really stepped up for us recently."
After a rough run in doubles over the last few weeks, Austin Peay was sharp in victory Sunday. Senior Jasmin Ademovic and junior Aleksas Tverijonas defeated Stephen Washuta and Nico Kuehn, 8-1, while juniors Iago Seffrin and Dimitar Ristovski defeated Patrick Gaffigan and Matthew Hutchinson, 8-3.
The Govs veteran-laden top-four saw continued success against the Cougars. In a battle between two of the OVC's top singles players, Ademovic polished off Nicolas Vincent 6-2, 6-1 to get the win in his Senior Day outing.
Tverijonas polished off Jacob Perkins in a three-setter (6-7, 6-1, 6-0) to run his record to 13-1. Seffrin won his fifth straight, with the Brazilian knocking off Kuehn 6-3, 6-4. Ristovski also defeated Hutchinson 6-1, 6-1.
"Iago's confidence is up," Brown said. "He's been playing good tennis all year, he just wasn't getting the victories early on. But he's mentally tough and has continued to do what he needs to do in order to win."
The Govs travel to Morehead State (1:00pm, April 5th) and Eastern Kentucky (1:30pm, April 6th) next weekend.
Box Score
Austin Peay 5, SIUE 2
Sunday, March 30th, 2014
Clarksville, TN | APSU Tennis Center
Singles competition
1. ADEMOVIC, Jasmin (APSU) def. Nicolas Vincent (SIUE) 6-2, 6-1
2. RISTOVSKI, Dimitar (APSU) def. Matthew Hutchinson (SIUE) 6-1, 6-1
3. TVERIJONAS, Aleksas (APSU) def. Jacob Perkins (SIUE) 6-7, 6-1, 6-0
4. SEFFRIN, Iago (APSU) def. Nico Kuehn (SIUE) 6-3, 6-4
5. Jacob Tanulanond (SIUE) def. MITCHELL, James (APSU) 4-6, 6-2, 6-1
6. Patrick Gaffigan (SIUE) def. MONTENEGRO, Manuel (APSU) 6-4, 5-7, 6-1
Doubles competition
1. ADEMOVIC, Jasmin/TVERIJONAS, Aleksas (APSU) def. Stephen Washuta/Nico Kuehn (SIUE) 8-1
2. SEFFRIN, Iago/RISTOVSKI, Dimitar (APSU) def. Patrick Gaffigan/Matthew Hutchinson (SIUE) 8-3
3. Nicolas Vincent/Jacob Tanulanond (SIUE) def. MONTENEGRO, Manuel/BOROWSKI, Evan (APSU) 8-3
Match Notes
SIUE 9-8 (3-3 OVC)
Austin Peay 9-5 (4-2 OVC)