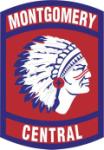 Cunningham, TN – The hot bats of August Rodenbaber and Rachel Nelson drove the Montgomery Central Lady Indians softball team to a 7-4 victory at home against the West Creek Lady Coyotes Wednesday, April 2nd.
Rodenbaber and Nelson combined to bring in all seven of the Lady Indians runs.
Rodenbaber went 3-for-3 at the plate, hitting 3 RBI doubles in the game. Her last double brought in two runs. Nelson batted 2-for-3 with an RBI single and an RBI triple. Her last at bat was a sac fly that brought in another run.
The Lady Coyotes had a strong day at the plate, actually matching the Lady Indians with 10 hits. The difference in the game came down to defense.
After two innings, both teams were tied 2-2. In the third the Lady Indians took advantage of a Lady Coyote error to extend their lead to 4-2. They held the Coyotes at bay while plating three more runs in the fifth and shut down a potential rally in the sixth.
Lady Indian Marissa Bumpus earned the win pitching a complete game. Bumpus allowed four runs on 10 hits, with one walk and four strike outs.
Lady Coyote Shaylynn Murk picked up the loss. She pitched all but 1/3 of an inning, going out briefly due to a hand injury. Murk allowed five runs from six hits, walked two and struck out three.
The Lady Coyotes scored first when Madison Kurts hit a line drive in the gap between center and right field for an RBI double in the first inning. The lead lasted until Rodenbaber's first at bat. With two runners on base because of walks, Rodenbaber drove in one with a long shot to centerfield.
Batting right behind Rodenbaber, Nelson hit a high-speed grounder past second base for an RBI single that gave the Lady Coyotes the 2-1 lead.
The score was tied 2-2 in the bottom of the third when the Lady Coyotes infield dropped a pop fly, allowing a runner on first. Next up, Rodenbaber drove the runner home with another bomb, this time to left field. Nelson brought in Rodenbaber with a line drive that went to the center field fence.
The bases were loaded with the Lady Indians up 4-2 in the bottom of the fifth when Rodenbaber came to the plate again. She sent her third shot of the day all the way to the left field fence, allowing two runners to come in.
Nelson followed up with a sac fly that brought in the Lady Indians last run.
Nadeya Usambara hit a two-run homer over the center field fence in the sixth to bring the Lady Coyotes within three, 7-4. Usambara batted 2-for-3 in the game with an RBI double and the home run.
However, the Lady Indians defense held in the seventh, getting to groundouts and a strikeout to end the game.
Box Score
| | | | | | | | | | | |
| --- | --- | --- | --- | --- | --- | --- | --- | --- | --- | --- |
| | 1 | 2 | 3 | 4 | 5 | 6 | 7 | R | H | E |
| West Creek Lady Coyotes | 1 | 1 | 0 | 0 | 0 | 2 | 0 | 4 | 10 | 1 |
| Montgomery Central Lady Indians | 2 | 0 | 2 | 0 | 3 | 0 | 0 | 7 | 10 | 0 |