Austin Peay Sports Information

Richmond, KY – A hard-fought effort against Eastern Kentucky fell Austin Peay's way, Sunday, with the Govs emerging from Coach Tom Higgins Tennis Courts with a 4-3 victory.
The win moves the Govs to 11-5 overall, 6-2 in the OVC and assures Austin Peay a spot in the OVC Tournament, scheduled to begin April 17th in Paducah, KY. Eastern Kentucky falls to 9-10 overall, 3-5 in the OVC.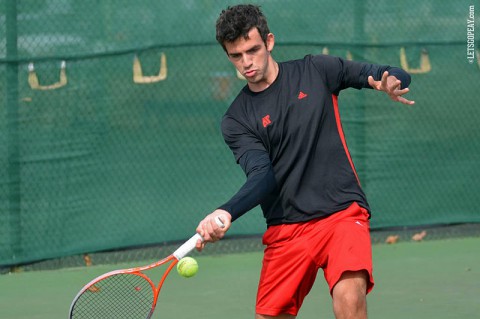 "Overall, a good team effort for us today," said head coach Ross Brown. "We had some guys really step up for us in big spots."
The Govs' No. 2 doubles pairing of juniors Iago Seffrin and Dimitar Ristovski defeated Alex Alvaro and Sebastian Mueller, but it was the No. 3 pairing, comprised of freshmen James Mitchell and Manuel Montenegro, that allowed Austin Peay to take the doubles point; they defeated Daridge Saidi and Joao Maio, 8-3, for the pair's first win since February 22nd against Southern Indiana.
"We played very good doubles today," Brown said. "Getting the victory from the freshman pairing was a big deal."
The Govs top two singles players suffered defeats, but the bottom of the Govs lineup stepped up in a big way. Montenegro was spectacular against Maio at No. 6, earning the 6-1, 6-0 victory, while junior Aleksas Tverijonas was a 6-4, 6-2 winner against Juanjo de la Llera at No. 3; Tverijonas is 42-3 in his last 45 dual matches dating back to 2012.
The man who clinched the win for the Govs is the same man whose stellar singles play has provided a lift for Austin Peay in recent weeks. Seffrin won his seventh straight, defeating Mueller 6-4, 6-4 to secure the victory for Austin Peay.
"Iago played sensationally," Brown said. "We win a lot of our matches with a solid top-four, but today we got some help at the bottom. Manuel was terrific in his win."
The Govs conclude OVC regular season play by hosting a 10:00am contest against Murray State at the Austin Peay Tennis Courts.
Box Score
Austin Peay 4, Eastern Kentucky 3
Sunday, April 6th, 2014
Richmond, KY | Coach Tom Higgins Tennis Courts
Singles competition
1. SAIDI, Daridge (EKU) def. ADEMOVIC, Jasmin (APSU) 6-3, 6-4
2. ALVARO, Alex (EKU) def. RISTOVSKI, Dimitar (APSU) 6-3, 6-4
3. TVERIJONAS, Aleksas (APSU) def. DE LA LLERA, Juanjo (EKU) 6-4, 6-2
4. SEFFRIN, Iago (APSU) def. MUELLER, Sebastian (EKU) 6-4, 6-4
5. GRASKAMP, Florian (EKU) def. MITCHELL, James (APSU) 6-1, 6-2
6. MONTENEGRO, Manuel (APSU) def. MAIO, Joao (EKU) 6-1, 6-0
Doubles competition
1. ASIS, Diego/DE LA LLERA, Juanjo (EKU) vs. ADEMOVIC, Jasmin/TVERIJONAS, Aleksas (APSU) 3-6, unfinished
2. RISTOVSKI, Dimitar/SEFFRIN, Iago (APSU) def. ALVARO, Alex/MUELLER, Sebastian (EKU) 8-4
3. MITCHELL, James/MONTENEGRO, Manuel (APSU) def. MAIO, Joao/SAIDI, Daridge (EKU) 8-3
Match Notes
Austin Peay 11-5, 6-2 OVC
Eastern Kentucky 9-10, 3-5 OVC
Order of finish: Doubles (3,2); Singles (6,5,3,2,1,4)