The 121st meeting. They begin their eleventh year.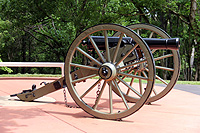 Clarksville, TN – The next meeting of the Clarksville (TN) Civil War Roundtable will be on Wednesday, April 16th, 2014 at the Bone & Joint Center, 980 Professional Park Drive, right across the street from Gateway Medical Center. This is just off Dunlop Lane and Holiday Drive and only a few minutes east of Governor's Square mall.
The meeting begins at 7:00pm and is always open to the public. Members please bring a friend or two – new recruits are always welcomed.
Topic: "Conflict and Controversy: The Affair at Spring Hill, Tennessee, November 29th, 1864"
Students of the Tennessee Campaign of 1864 know mostly of the battles of Franklin and the crushing defeat of the Confederates at Nashville in late 1864.
But it was the events of November 29th, 1864 and the small town of Spring Hill, Tennessee, that certainly set up what was to be the disaster of Franklin on the next day.
To this day, the controversies of that fateful time at Spring Hill remain open wounds on the Confederate side with cases of bungling from the top command down to division commanders. It was as if the Confederates did not want to win and perhaps bag the Federal forces of Gen. John Schofield on the Columbia Pike.
Confederate commander John Bell Hood never forgave his subordinates when word arrived that his efforts to close the Columbia Pike with cavalry and infantry came to naught for reasons of lack of ammunition to misunderstanding of orders to failed coordination.
It can be argued that the attack at Franklin was the direct result of this calamity but was it Hood getting back at his army for filing his flanking movements as some have believed?
For this month's program we have Rob Cross, Senior Military Historian at Belle Meade Plantation near Nashville, to delve into the complexities and personalities of that eventful day of November 29th, 1864. Rob will tell the story of what happened, who was at fault and what happened to the major players for the rest of the war and afterwards.
After this, Rob will engage our members in an open discussion of Spring Hill so please come prepared by reading the accounts of this day in the books on the 1864 Tennessee Campaign.
Rob Cross is a lifelong student of military history. Formally educated at the University of Memphis, he has worked over the course of 23 years in eleven of Middle Tennessee's public and private civil war sites and battlefields.
While he has studied in depth every American military conflict, his emphasis in expertise the civil war battles and campaigns in Middle Tennessee. He is currently the Senior Military Historian at Belle Meade Plantation in Nashville, Tennessee.