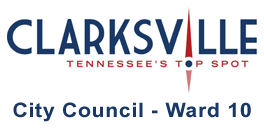 Clarksville, TN – As users of CDE telecommunications services know, there have been two total citywide failures of the system.
While these failures were found not to be the fault of CDE, it has opened a floodgate of questions by Ward 10 constituents and many other residents and business people as I have held meetings and visits throughout Clarksville.
Many state they have had issues with the telecommunications services and these failures were the last straw.
I was getting plenty of negative feedback from the first failure when the second failure occurred.
This second total failure occurred less than two days before the regular council session and by regular council rules there was no time to place the topic on the council agenda for discussion.
As I collected more questions and concerns from citizens, I attempted to bring it up for discussion at the April 3rd council meeting at the conclusion of the Finance agenda hoping the council and mayor would allow it, if everyone approved.
This seemed the best place to approach the topic as some questions and comments I had received concerned the financial capacity of the telecommunications function and such reports go to the city Finance Committee.
The mayor did not want to entertain any questions or discussion and stated I should submit my questions and CDE could answer them. As these questions came from citizens from all over Clarksville, I requested that CDE provide a presentation to the full council at its next meeting and address those questions and concerns.
Based on last month's city council ordeal for Councilwoman McLaughlin to get a simple map, I told the mayor I would sent the request directly to her for approval and hopeful action.
Below is the request that I sent to Clarksville Mayor Kim McMillan on April 9th, 2014. I will hopefully receive those responses at the council meeting and publish them then. The request was also made available to the public.